Surpassing other nine finalists, Bi, Không Sợ Nữa (Bi, No More Fear), a film by HCM City-based video production FGS, won the highest prize in 48 Hour Film Project Vietnam.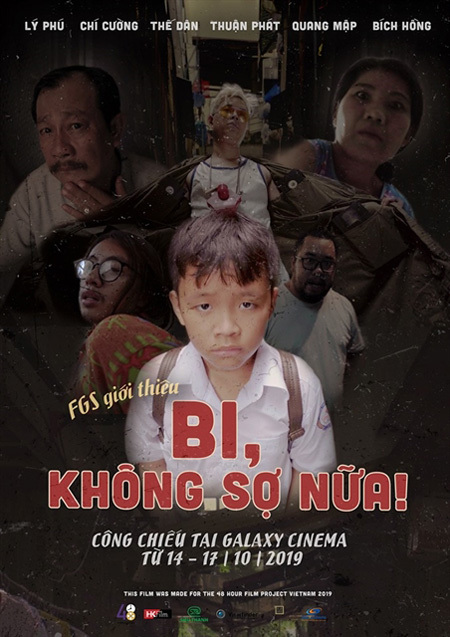 The poster of Bi, Không Sợ Nữa (Bi, No More Fear), a film by HCM City-based video production FGS, The film will compete in the Netherlands in 48 Hour Film Project International. Photo FGS - Production Facebook
After that, the film will travel to the Netherlands to compete in the international contest next March. It is also expected to be among 15 candidates of 48 Hour Film Project International to attend Cannes Film Festival 2020.
This year, the films competing in 48 Hour Film Project Vietnam must include a pig as prop, a character named Hoang Anh and a career of a collector while the conversation must include the sentence: "I don't want to hear any defence from you".
The teams started to make the film from August 23 and submit their products on August 25.
Among over 30 nominations, nine entered the final round with total value of the award up to over VND200 million (US$8,600).
After over two months of evaluating, the jury board selected Bi, No More Fear as the winner of the contest this year. Its producer, FGS, has competed in the contest in three consecutive years and won the highest prize for the first time.
Bi, No More Fear is a short condensed story about a boy who is curious about adults' films. Fortunately, he is guided and oriented towards activities suitable to his age by good people. The film is educational with clear message. It also received highest votes from the audience after being premiered in cinemas.
The second and third prizes went to Đông (Freeze) by Coda team and Đồng Vị (Isotope) by Viseur team, respectively.
Several other prize categories like best director, best camera and best script, best actor and actress were also awarded.
48 Hour Film Project was launched in Washington, DC in 2001 by Mark Ruppert and Liz Langston. It has attracted several thousand filmmakers from more than 76 cities worldwide.
The contest aims to advance film making and promote filmmakers, particularly young artists.
In Vietnam, it began in 2010 and has since then included more than 1,000 short films. In 2013, the contest attracted film director and producer Phillip Noyce as a member of its jury.
Through the event, many students at universities and colleges have had a chance to explore their creativity. VNS