Different art forms will come together and blend into a unique performance entitled Overseas at the Ha Noi Opera House today (May 10).
French-VN musician Nguyen Le releases album
French-Vietnam musician Nguyen Le to tour in Vietnam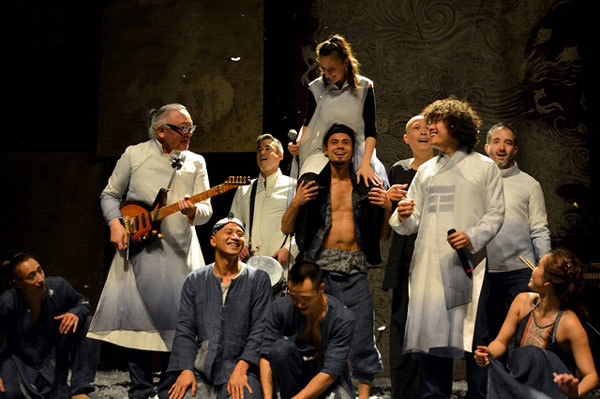 Musician Nguyen Le (second from left) and Vietnamese expatriate artists will perform in Hanoi and HCM City. — Photo L'espace
The show will include music, dance and circus performances with the participation of popular artists such as Nguyen Le and Tuan Le.
Nguyen Le and Tuan Le will co-operate for the first time in Overseas to convey and share the poetry of Vietnamese traditional art, resonate with the new values of the global creative flow as well as the Vietnamese culture in the minds of expatriates.
"Overseas is a universal story," said musician Nguyen Le. "The concepts of identity and migration and local and global are becoming very important today. Across the ocean, people know who they are and what they will become."
The musician has composed pieces specifically for the show with a unique combination of Vietnamese traditional music, jazz, rock, hip hop, reggae and electronic.
Born in Paris from Vietnamese parents, Nguyen Le is a self-taught musician. He plays the đàn bầu (monochord) and đàn tranh (16-chord zither). He won the Django Reinhardt prize from the French Jazz Academy in 2011.
Tuan Le is the only Vietnamese to have performed in Canada's Cique du Soleil as a solo artist. Raised in Germany, he was also the first Asian person to receive the Award of Excellence from the International Jugglers' Association in 2010.
For Overseas, Tuan Le selected a group of Vietnamese circus and dance artists who were working for different art troupes around the world to perform.
The stage will be decorated by Vietnamese trúc chỉ (bamboo pulp) paper. Trúc chỉ will interact with the melody, dance, light, space and people.
The show is being co-held by the Delegation of the European Union and French Cultural Centre to celebrate European Day.
The show will move to the HCM Opera House tomorrow (May 11).
VNS