Various shows will be held this month to mark the 31st anniversary of death of playwright Luu Quang Vu (1948-1988).
The author of dozens of plays, he is considered as a phenomenon of Vietnamese theatre in 20th century. 
Legacy of Luu Quang Vu and Xuan Quynh in Vietnam's literary scene
Timeless values of Luu Quang Vu's plays honoured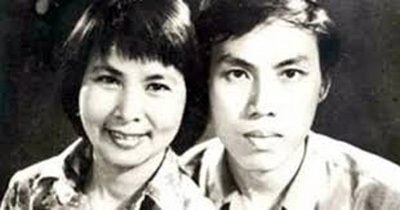 Talented couple: poet Xuan Quynh (left) and playwright Luu Quang Vu. Faimily File Photo
Popular plays like Ai Là Thủ Phạm (Who Is the Culprit?), Lời Nói Dối Cuối Cùng (The Last Lying Words), Hoa Cúc Xanh Trên Đầm Lầy (Green Daisy on Marsh), and Lời Thề Thứ 9 (The Ninth Oath) with be performed starring artists Minh Hang, Duc Khue, Van Dung, Thu Quynh, Bao Thanh, Thanh Son, and Ba Anh.
The Season is expected to remind the audience of Vu, a "monument of Vietnamese theatre", said Meritorious Artist Chi Trung, director of the youth theatre.
The theatre was the first art troupe to stage Vu's first play Sống Mãi Tuổi 17 (Forever 17). So far the theatre has staged 15 pieces by the late playwright.
Trung said the programme has been held annually in August in memory of the playwright and his wife, poet Xuan Quynh, who were both killed in a car crash along with their 12-year-old son.
"Vu was not only a close friend but also a part of my life," People's Artist Doan Chau said. "We lived closed to one another and shared a lot in common to make many plays. Vu's plays are always full of desire, help erase pain and make us love life more."
Chau said Vu's plays have many layers of dramatic situations, many profound characters, and contain hope of changing lives.
People's Artist Le Khanh, who has played main roles in many of Vu's plays said Vu's works have many special features.
"His dialogues are excellent, profound, simple, witty and charming," she noted. "His characters' dialogues contain sharp and large scale ideas, which are quickly understood by the audience."
Vu served as a soldier in the anti-American War from 1965-70, which was when he started to write poems. It wasn't until the 1980s he become a celebrated poet, featuring life in the post-war period and during the process of national renewal in the late 1980s.
His dramas, short stories and poems were charactised by their gritty realism and great humanity. He wrote 50 dramas, most of which criticise the darker side of society, especially corruption and authoritarian behaviour. Many of them earned high literary acclaim.
He married to fellow poet Xuan Quynh, whose poem Sóng (Wave) became standard reading material in secondary schools.
The couple died in a car crash on August 29, 1988 when travelling from Hai Phong City back to their home in Hanoi. Their 12-year-old son was also killed in the same accident.
The country's highest awards, the Ho Chi Minh Prize in art and literature, were posthumously given to Vu in 2000 and Quynh in 2017.
The programme will be held at the Youth Theatre, 11 Ngo Thi Nham Street.
VNS