While people are choosing decorations for Christmas trees and gifts for relatives and friends, their children have only one thing in mind: Santa Claus and the gifts he is likely to bring.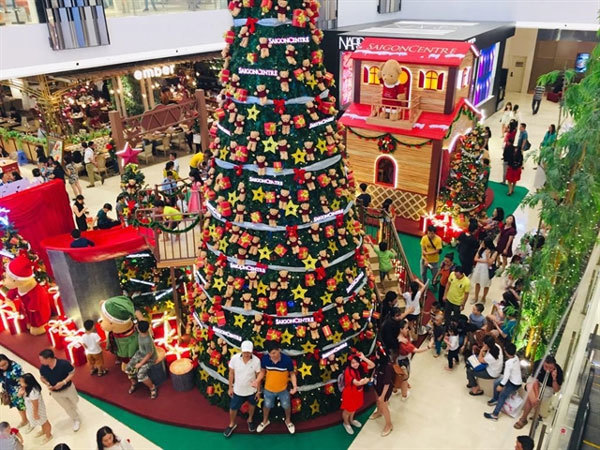 Shopping centres, supermarkets and shops in HCM City have kicked off sales promotions for the Christmas season, offering gifts and discounts on consumer goods, food and entertainment. Photo by Anh Thu
In HCM City, many supermarkets, shops, restaurants and amusement centres are offering customers free delivery of gifts by Santa during the Christmas week.
The tourist company Vietprotour said the number of customers asking for men made up as Santa has increased rapidly this season.
"We choose tubby people for the role because kids expect a plump Santa," said a Vietprotour representative.
Other companies like Saigon Entertainment Event, Rồng Việt Tour and Noel Xmas House Delivery are also offering the service.
Most companies charge VND130,000 -230,000 (US$5.5-10) for a visit, with the figure doubling on Christmas Eve.
Some companies offer special services ranging from VND520,000 ($20) to VND1 million ($49) for a Santa, two to five elves, and a sleigh.
As in previous years, the Youth Cultural House and Children Cultural House will send young volunteers to spread Christmas cheer to disadvantaged children.
Hundreds of volunteers, dressed in Santa Claus's traditional red-and-white costume, will visit shelters and open houses in rural districts, offering toys and gifts donated by sponsors.
"We want Christmas to be about giving and making all children happy," said volunteer Tran Thanh Sang of the HCM City University of Law.
On Christmas Eve, Sang and other volunteers at the Youth Cultural House will offer gifts to poor children living in District 8.
"I will be a plump man in a red costume and enjoy the screams of 'Hello! Mr Noel' from the kids who will sing Jingle Bells loudly together," said Sang, adding that he hopes that all children meet Santa and receive gifts.
Decorations
This year, a large range of locally made Christmas gifts and ornaments is available.
A Christmas tree with eye-catching decorations costs between VND300,000 ($15) and VND1 million, while a wide variety of locally-designed cards are available at an average price of VND22,000 (1$).
Christmas ornaments are selling for VND10,000 ($0.4) at many souvenir shops and supermarkets.
Shopping centres began their Christmas promotion sales last weekend, offering gifts and discounts on consumers goods, food and entertainment.
"We hope our crazy sales of up to 50 per cent or more will help residents and visitors celebrate the festive season with gusto," said an owner of a jewelry shop in District 1.
Vietnamese bakeries such as Kinh Do, Givral, Brodard and Hy Lam Mon are offering all kinds of Christmas cakes and candies starting at VND150,000 ($6).
Restaurants and hotels have also announced special deals on food and music as well as fashion and magic shows for adults, and prices reduced by half for children on Christmas Eve and New Year's Eve.
"I believe that a good year is coming to us," Sang said. — VNS

Santa Claus delivery services are becoming extremely busy over the last few days.  

1. Celebrate the season at The Reverie Saigon

Hard Rock Café HCM City will host an Xmas Workshop with Santa and his Elves on December 15.