Vietnamese and Singaporean scientists yesterday ended a two-day seminar in Hanoi where they exchanged experience in museum activities.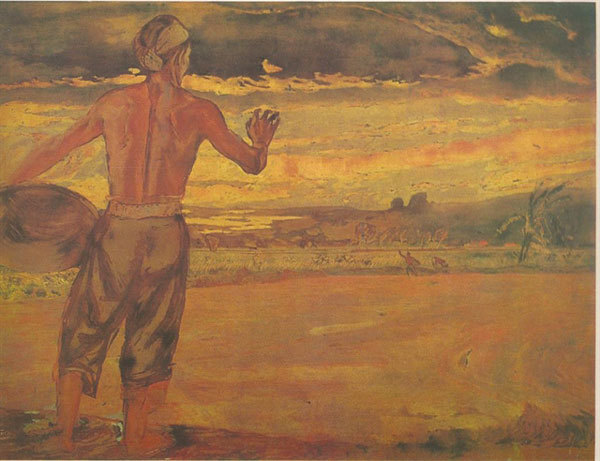 The Viet Nam Museum of Fine Arts loaned the oil on canvas painting Bình Minh Trên Nông Trang by Nguyen Duc Nung to the National Gallery Singapore in 2015. Photo buiduytam.com
The seminar, entitled Museum Research, Acquisitions, Exhibition and Collection, was organised by the Viet Nam Museum of Fine Arts and National Gallery Singapore as part of a memorandum of understanding (MOU) for the period from 2014-19.
The seminar was also an occasion for staff of other museums from HCM City, the central province of Hue, central city of Da Nang, as well as from cultural heritage management institutions to discuss practical issues with Singaporean specialists.
The attendants had intensive discussions on displaying, packing and transporting artefacts, as well as storing digital documents.
The National Gallery Singapore was inaugurated only four years ago but has become a leading art museum within the region and worldwide based on its reputation and professionalism.
"We are a new and young museum but the focus of the mission is to introduce the artistic history of Southeast Asia, including Vietnam in the 19th and 20th centuries," said Lisa Horikawa, the gallery's Deputy Director of Collection Developments.
"Viet Nam Fine Arts Museum always holds a special position for us, being our first counterpart in Southeast Asia. It was a time when National Gallery Singapore was not open to the public and we highly appreciated the support of Vietnamese colleagues."
The gallery includes leading specialists in museum and art of the region and the world who have contributed to its success.
"We strongly believe that with knowledge and practical experience Singaporean specialists will share with Vietnamese colleagues on some of their practices," said Nguyen Anh Minh, director of the museum.
"We are interested in areas including research, acquisitions, digital archiving, exhibition planning, curator role in research and exhibition development, collection management, preventive preservation, packing and shipping."
The two sides officially established the relationship by signing the MOU in 2014 on museum areas including loan of collection, organisation of exhibitions, academic research and professional training programme.
In 2015, the museum loaned the artwork Bình Minh Trên Nông Trang (Dawn on a Farm) by Nguyen Duc Nung (1914-1983) to the gallery for one year to be exhibited at its opening exhibition.
In addition, it was an opportunity for the Vietnamese museum to practice and get experience in the process of loaning collections at an international standard which promotes international co-operation with other regional and international museums, according to director Minh.
VNS