A Singaporean football legend has said Vietnam are no longer the underdogs of Southeast Asia.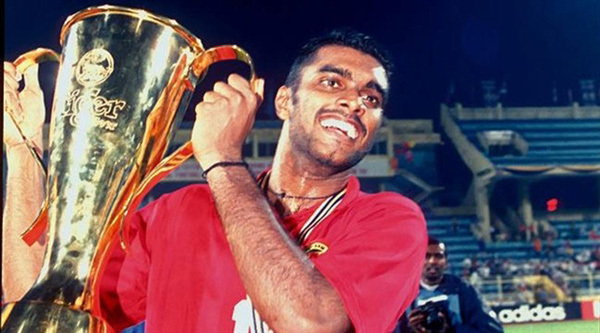 Sasikumar scored the decisive goal in the 1998 Tiger Cup final against Vietnam to help Singapore won their first ever international title. File photo
R Sasikumar, who scored the only goal in the final of the 1998 Tiger Cup (the predecessor of the AFF Cup) versus Vietnam, told e-newspaper Zing that the Vietnamese side have significantly improved in recent years.
"Vietnam are no longer underdogs," Sasikumar told Zing.
"Vietnam are undoubtedly one of the most progressive teams in Southeast Asia.
"It would be great if two Southeast Asian teams can go to the next round. I hope Southeast Asian football can progress to a new level.
"The time when Vietnam were always an underdog team is over. In this group, Vietnam are the team that everyone wants to beat. The UAE will have to try and work hard to play offensively, but I believe Vietnam can still win.
"Indonesia right now, they haven't won a single game yet. For the past 18 months, their domestic league has not been active. Many players have not played for more than a year," said Sasikumar.
"When looking at the quality and the performance of Vietnamese and Indonesian players, you guys are definitely more likely to win," he added.
Sasikumar's winner in the 1998 final secured his country's first-ever international trophy and propelled him to stardom.
Vietnam have a great opportunity to compete in the final stage of the World Cup qualifiers for the first time in history as they lead Group G with 11 points after five matches, two points ahead of Malaysia.
The remaining matches in Group G will see Vietnam face Indonesia, Malaysia and the UAE – the hosts of the group.
On May 31, the national team had a friendly match against Jordan which finished 1-1 after 90 minutes.
They will face Indonesia on June 7, Malaysia on June 11 and the UAE on June 15.
All the matches will take place at 11.45pm Vietnam time.  
VNS

Vietnamese spectators will be able to attend the men's national football team's matches in the second round of the 2022 FIFA World Cup Asian qualifiers in the United Arab Emirates (UAE), the organisers have announced.

Despite being at the top of Group G, Vietnam will be in a dangerous situation if it only gets second place after the end of the second qualifying round of the 2020 World Cup, because of the withdrawal of the North Korean team.