To celebrate the 13th National Party Congress (January 25 to February 2) and 91 years of the establishment of the Communist Party of Vietnam, the Hoa Lo Prison Relic Management Board is hosting an exhibition called The Solidarity Song.
The Solidarity Song was the song that Uncle Ho let everyone sing before he left meetings. It dated back to 1943 and was originally taken from China's Solidarity is Power song and translated into Vietnamese.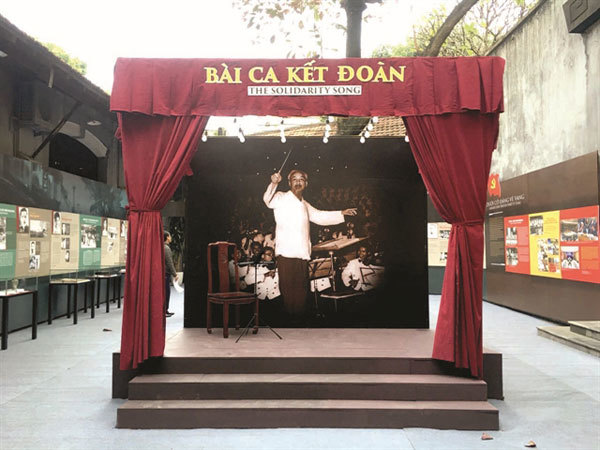 The image of President Ho Chi Minh conducting The Solidarity Song is displayed at the site. VNS Photo Van Anh
The exhibition is divided into two main sections, one called 'The imprint in the countryside' and 'Under our proud Party's flag'. The former shows profiles of prisoners who were devoted to the mission and vision of the Party. 
These soldiers were resolute to believe in and follow the path of the revolution, willing to sacrifice themselves to bravely fight for Vietnam's independence and freedom. Despite the hardship, prisoners at Hoa Lo and other prisons were still united, creating a tight-knit community in the most difficult conditions.
Tiles of each notable prisoner profile are presented, with visual accounts in their memoirs or quotes from interviews attesting to the monstrosity of the pre-independence period and their hardship and determination. Some moved on to highly regarded positions like Senior Lieutenant General or Party General Secretary.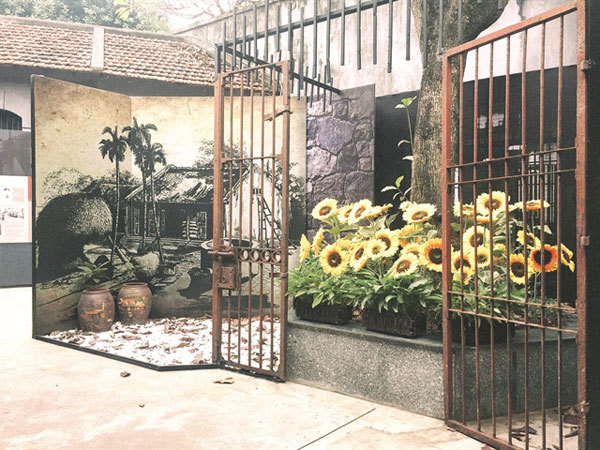 Poster of a typical Vietnamese village in the countryside, where many united comrades came from. Photo Courtesy of Hoa Lo Prison Relic Management Board
Touching stories like that of Nguyen Tai Khoai were presented. Khoai, the son of famous writer Nguyen Cong Hoan, wanted to become a painter, but before becoming an artist, he joined the revolution.
The second part 'Under our proud Party's flag' mainly focuses on achievements of the Communist Party of Vietnam to help develop the country to where it is today. President Ho Chi Minh insisted on the people's solidarity as an important tradition to preserve. Each Party Congress marks the unity of the Government and its people, and how solidarity has helped the nation progress.
The exhibition includes documents and artefacts reminding of past Party Congresses. The exhibition is open at Hoa Lo Prison Relic in downtown Hanoi. VNS

Memories of the hardest times of two destructive campaigns by the US in the north of Vietnam (1964-1972) will be presented to the public at an exhibition at Hoa Lo Prison Relic in Hanoi from Monday.

An exhibition being held at Hoa Lo Prison Relic, is displaying special documents and artifacts, sparking admiration of the resilience and will of Vietnam's revolutionary soldiers,