Five private troupes specialising in cải lương (reformed opera), a traditional art originating in southern Vietnam, in the Mekong River Delta region are offering mobile shows for residents in rural areas.
The Traditional Arts Troupe of Dong Thap Province has been travelling around the region staging interactive shows with veteran artists, including cai luong stars of HCM City.
Rural female artist reinvigorates cai luong
HCM City theatres work to preserve cai luong with young actors, new music
SUPPORT ART: People's Artist Le Thuy (right) and actors of the Thanh Nam Cai Luong Troupe are working to lure young audiences back to the traditional art form. VNS Photo Thanh Hiep

"Our troupe has 15 skilled artists who have worked for the State-owned Dong Thap Theatre," said Meritorious Artist Minh Man, owner and head of the Traditional Arts Troupe.
Man spent more than 40 years in the field before managing his own business.
"To develop our troupe's business, we offer free training by veteran artists. We help young actors improve their skills in music, singing and dancing.
"To guarantee ticket sales for our shows, we have worked with professional art troupes, such as Sen Việt Cải Lương Troupe of HCM City, to stage quality plays," he added.
Man's troupe will re-stage two historical plays, Rạng Ngọc Côn Sơn (Pearl in Côn Sơn) and Tô Ánh Nguyệt (Ms Tô Ánh Nguyệt), both of which have been staged many times by leading theatres of HCM City, next month.
"I spent about VND300 million (US$13,000) for each production. In these works, we invited famous artists of HCM City to play leading roles. We hope their performance will leave a fresh impression on local people," Man said.
In Kien Giang Province, artists from the Thanh Nam Troupe know the taste of audiences, particularly youngsters, and offer what they want to see on stage.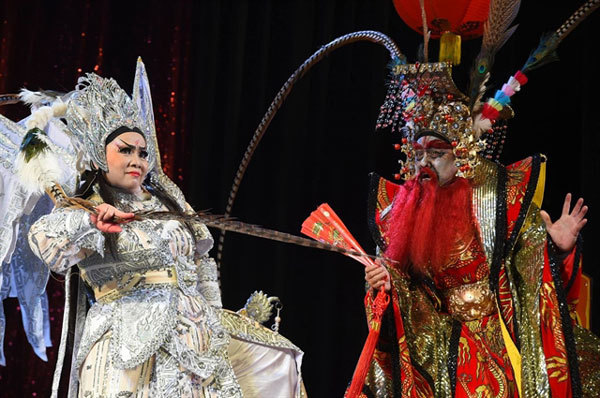 GIVE US A CHANCE: Cai luong actors want to give young audiences the opportunity to understand and appreciate the country's traditional culture and theatre. Photos courtesy of Lê Hoàng Drama Troupe

"We often use two stars who perform with young actors to attract fans to our troupe's show," said Thanh Nam, 65, owner of the troupe.
Nam, also a cai luong actor, invited People's Artist Lệ Thủy to be a guest performer in his troupe's new play, Chuyện Nhà Chuyện Làng (Village's Stories).
Thuy used her strong voice and dancing to great effect and impressed audiences. She also helped Nam's actors improve their performance.
"The participation of Thuy, a star of cai luong for more than 50 years, helped tickets sell out quickly," Nam said.
Nam and his actors have also offered shows at temples and cultural houses for people living in remote and poor villages in Kien Giang and the neighbouring provinces of An Giang, Bac Lieu and Ca Mau.
Their plays are about the challenges, hopes and dreams of southern farmers.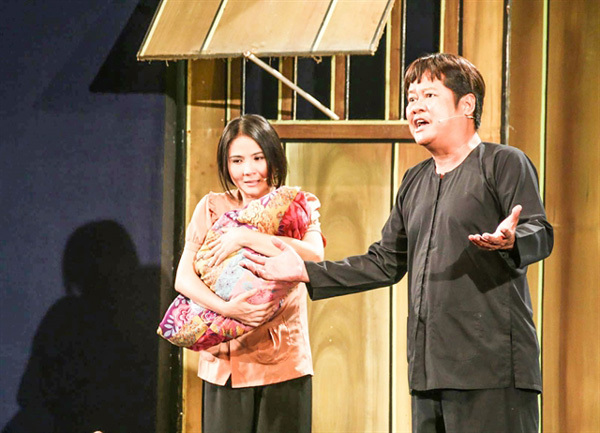 PLAY'S THE THING: Actors of private troupes in southern provinces on stage.

"My troupe has 20 full-time young actors and musicians who were farmers before they took to the stage. People's Artist Thuy and her colleagues offered free training for them," Nam said.
"Cai luong is part of our heritage that is hundreds of years old. I wanted to expose young people to the art.
"I told my actors that they should work hard because their art gives young audiences the opportunity to understand and appreciate the country's traditional culture and theatre," he said.
Nam spent 40 years working as director of Kien Giang People's Cai Luong Theatre, one of the region's leading traditional art troupes.
His theatre performed hundreds of shows per year in the 1980s and 90s when cai luong was the most popular art form in the region. Last year, the theatre staged only 70 shows.
The Mekong Delta region now has 13 State-owned cai luong troupes. Two leading theatres, Ánh Hồng Troupe of Tra Vinh and Chuông Vàng Troupe of Soc Trang, closed last year after failing to attract enough spectators.
Man and Nam are among the region's few professional artists who opened their own troupes and have kept the art form original.
The two artists have worked with local authorities to offer outdoor shows in traditional festivals.
"We signed a contract with the Phú Nhuận Drama Troupe, one of HCM City's prestigious private theatres, to develop our troupe's business professionally," said Le Nguyen, director of the private troupe Đất Việt Stage of Can Tho City.
"To introduce our art, we've spent money on marketing and online ticket sales. We also send our young actors to train with famous artists in HCM City."
Nguyen's troupe offers small shows staged for workers at companies and factories in the province instead of at theatres.
"Our shows featuring songs and dances that reflect people's daily lives, including work and family issues, have entertained audiences," Nguyen said, adding that his young staff this year has offered more than 70 shows and concerts for 15,000 people.
By Thu Anh
VNS