After a six-hour flight from HCM City to Tokyo, Tran Thi Thanh Thuy spent three more hours on the road before reaching Kahoku City, Ishikawa, where her new home, PFU Blue Cats, bases.
Tran Thi Thanh Thuy is a key player at her Binh Dien Long An Club and the national team. — Photo asianvolleyball.net
This is her second spell in Japan's V.League Division 1 making Thuy the most 'emigrated' player from Vietnam, four times in five years. 
She is expected to help the Cats to climb up in their domestic league and push Thuy's personal ability, her club VTV Binh Dien Long An's fame and partly Vietnam's volleyball to a higher level in the world.
Thuy is a special case in Vietnam because of her height, her volleyball ability, and her contribution to the national game. 
13 years old and 1.78m
"There is no way a 13-year-old could be 1.78m in height," former national team and Binh Dien Long An club coach Luong Khuong Thuong recalled when talking about the first time he saw Thuy.
Thuong who had been working for many years training and scouting players could not believe in his eyes when standing in front of the girl in 2010.
After having tests and check different sources to confirm Thuy's year of birth was 1997, Thuong knew that he had found a 'rough diamond'. Apart from her height, Thuy also had a good arm span, standing reach, and high vertical leap which are ideal for volleyball. 
"In my decades working as a coach, I have not ever seen a player with such special abilities like her," said Thuong.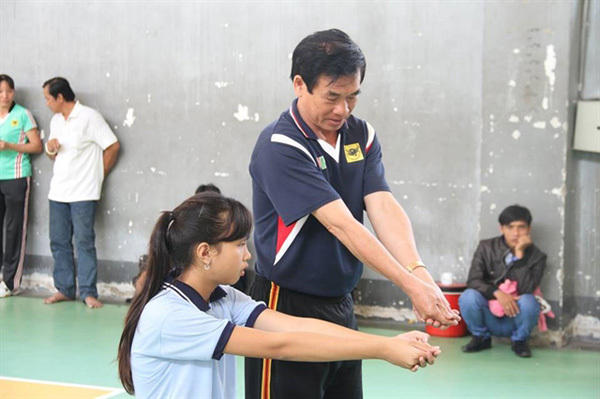 Tran Thi Thanh Thuy pictured in her early days of volleyball training. — Photo of Binh Dien Long An Club
He was much happier when knowing that despite having not touched the ball, Thuy was a crazy fan of the sport, watching it on TV regularly.
Thuy took Thuong home to talk with her parents. But things did not go easy at first.
The family had moved from Ha Nam to Binh Duong many years ago and had good living conditions. They immediately refused Thuong's proposal because they did not know who Thuong was and preferred if their daughter followed the academic path.
Two weeks later, Thuong came back, bringing along some other assistants who persuaded them. They failed again although Thuong promised to make Thuy an outstanding volleyballer, offering a great contribution to Vietnam. He even threatened that such a tall girl could only find a suitable husband in a sports environment!
A month after that, in his third time of trying, Thuong talked and talked and pointed to himself as an example. He was an only child of his parents, he followed sport and he succeeded. 
This time, Thuy's parents spent time listening to him and recognised Thuong's determination and belief. After a drinking session between the two men, her father decided to let Thuy go and said Thuong would have to take responsibility for what Thuy would be in the future.
Thuy joined Long An's training centre and was directly trained by him using a special programme.
Under his care, Thuy has grown up strongly.
At 1.93m, she is the tallest player in Vietnam and third in Southeast Asia.
She has been not only a key player for her club but also the national squad. She has amazing blocks and attacks, notably her tough serves and scoring ability from behind the 3m line, which is rare to find in national volleyball. 
Flying-high player
At the age of 18, Thuy was invited to play for Thailand's No 1 club Bangkok Glass in the 2015-16 season. 
Coach Aphisak R, who worked in Long An in the past, watched Thuy for a long time. He expected she would be a new weapon for the club and also helped Long An in upgrading the player's ability.
Young and unexperieced, Thuy was a little nervous and under heavy pressure. She set a goal of being in the list of 12 players who were played regularly.
But she did an extraordinary job, becoming key outside hitter and was the club's top scorer throughout the season with an average of 17 points per match. She helped Bangkok Glass defend their title, winning 14 matches. They were crowned champions with two games still to play. 
With her contribution in the Thai League, Thuy was one of two Vietnamese, along with her idol Nguyen Thi Ngoc Hoa, listed as best foreign female players by SMMSPORT, a local sports website, in an article in 2020.
Her strong performance impressed scouts of Taiwan's Attack Line who offered her a contract for the 2017 season. Thuy did not let the new club down, winning an official place in the first team and was the second-best scorer with 147 points after eight matches.
She came back to Vietnam to compete in the 2017 Asian Women's U23 Volleyball Championship, where Thuy scored 111 points in seven matches. Vietnam finished third and Thuy was voted Best Outside Spiker, her first individual title.
She then took the armband and captained Vietnam to third place at the 29th Southeast Asian Games in the same year and second place at the 30th Games in 2019.
Her third international spell came after she rejected offers from Thailand and Turkey. Japanese Denso AiryBees finally brought her to their camp in 2019 as the second foreigner at the club.
Although the number of matches for the Japanese club is not as many, she also left a mark with her role and forte with the advantage of height in both attacks and blocks.
Unfortunately, because of the COVID-19 pandemic, all sport tournaments in Japan were postponed and Thuy returned home. 
In her fourth time playing overseas, Thuy who is said to receive US$200,000 per year, is expected to help the team to improve its national ranking. Last season, they placed nine out of 10.
Their opening match will be on October 16 against Denso AiryBees, her former club. 
"We decided to pick Japan as a destination for her instead of teams from Thailand and Turkey because we believe that Japan is the best environment and most suitable for Thuy," said Thai Buu Lam, a representative of Long An. 
"We hope she has the chance to learn from better competition to sharpen her skills which will lift our club and Vietnam," he said.
Hours before her flight, Thuy said: "I have learnt a lot since my time with Denso AiryBees. For the coming tournament, I myself want to be comfortable and confident to show everything I have on the court. I will save every moment and use every opportunity to push me to a higher level." 
Source: Vietnam News

Japanese volleyball club Denso Airy Bees has announced that it has completed contract talks with Việt Nam spiker, Tran Thi Thanh Thuy.

VTV Binh Dien Long An Volleyball Club have agreed to let their key spiker Tran Thi Thanh Thuy play for Denso Airybees for another season.