A chamber concert featuring Russian classical music will be held in Hanoi and HCM City on Thursday and Friday, with performances from Alexey Vovchenko (clarinet) and Alexey Kuznetsov (piano), laureates of international competitions.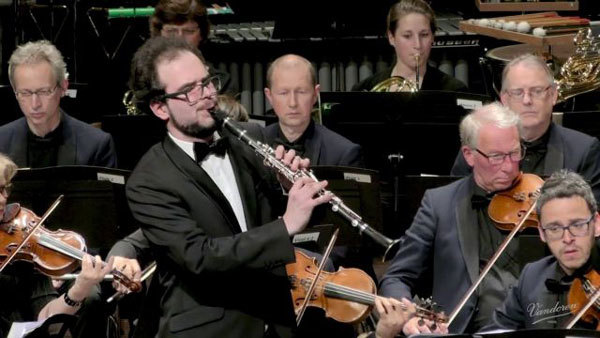 Alexey Vovchenko duing a performance with the Brussels Philharmonic Orchestra. He will perform in Vietnam as part of the Embassy of Musical Mastery programme. — Photo courtesy VandorenTV
The concert will be conducted by Artistic Director of the St. Petersburg House of Music, People's Artist of Russia, Professor Sergei Roldugin.
The artists will perform Fantasy on Themes from Rigoletto by Giuseppe Verdi for clarinet and piano, composed in 1851 by Luigi Bassi; three pieces for clarinet solos composed by Igor Stravinsky; First Rhapsody for clarinet and piano composed by Claude Debussy; and Fantasiestucke op.73 by Robert Schumann.
Kuznetsov has won various Russian musical contests, while Vovchenko, who was born in Uzbekistan, has won many prizes at international contests.
In the framework of the Embassy of Musical Mastery programme, the concerts are organised by St. Petersburg Music House in collaboration with Russian Centre for Science and Culture in Hanoi.
The programme is held to mark the 85th birthday of Yuri Gagarin, a Soviet pilot and cosmonaut, the first human to journey into outer space in 1961. It's one among various cultural and educational activities to mark 2019 as the Russian Year in Vietnam and the Vietnamese Year in Russia.
The St. Petersburg Music House was established in 2006 by the Russian Ministry of Culture. It aims to promote classical music, revive performance traditions and support the most talented young Russian musicians.
The House offers performances on the best concert venues, master-classes given by outstanding masters and performances abroad.
The programmes will take place Thursday at Viet Nam National Academy of Music, 77 Hao Nam Street, Hanoi and Friday at the Conservatory of HCM City, 112 Nguyen Du Street, HCM City. Free entrance.
VNS