With her short hair and joyful smile, Nguyen Tieu Phuong looks young and active for a 46 year old.
10,000 runners to take part in Techcombank HCM City Int'l marathon
More than 7,000 runners to take part in Danang International Marathon 2019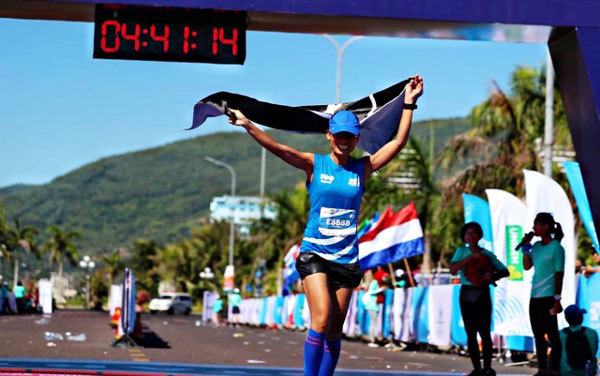 Nguyen Tieu Phuong crosses the finish line of the Vnexpress Marathon last month. Photo courtesy of Nguyen Tieu Phuong
Phuong is the only Vietnamese woman in the under 50 age group to complete all of the most challenging marathons in the country. She has tackled the 100km category at the Viet Nam Moutain Marathon, the 70km race at the Viet Nam Jungle Marathon, and the Techcombank Ironman 70.3 in 2016.
The "steel rose" also participated in the 85km ultra marathon in HCM City last year and took the women's title.
To meet these challenges, Phuong had to change her body clock to make time to train.
Phuong, who is a trainer and coach at the California Fitness and Yoga Centre in HCM City, had to get her body used to going to bed at 7:30pm and waking up early to run.
"My normal day often begins at 2am," she said. "My work begins at 6:30am so I have to wake up early. To find time to run, I am forced to give up many pleasures."
"After getting up, I drink a cup of coffee, read the news and warm up before running," Phuong added. "After that, I work and train at the centre. My day finishes at 7:30pm with a good sleep until the next morning."
At the Viet Nam Mountain Marathon (VMM), one of the biggest ultra-running events in Asia, Phuong was part of the just 35 per cent of runners who finished the 100km race last year. The rest of the runners withdrew due to the extreme heat.
To prepare for the 100km race, which began at 10pm, Phuong trained her body clock by going to sleep at 4pm and waking up at 10:30pm to run while the rest of the city slept.
"At first it was very uncomfortable to go to sleep so early," she said. "However, after the fifth night my body gradually got used to it. Thanks to the training, I entered the competition with a sound mind and was able to complete the race."
Overcoming fear
As a fitness trainer, Phuong has more than 10 years of experience working in athletics. But she did not compete in a marathon until 2014, when some co-workers invited her to take part in the first HCM City Run.
"I simply completed the 10km race," said Phuong. "However, the event gave me the chance to get acquainted with professional runners and then learn from them. After that, I registered to compete in longer races including a 21km, 42km, 70km and 100km."
"As you know, professional runners run for achievements," Phuong said. "But completing a race for amateur runners like me is about happiness. After finishing an event, we get a medal. Men like watches, women like lipstick but I like collecting medals."
At Phuong's house, medals and bibs from five years of races decorate the walls.
Each bib reminds her of the sweet taste of a win, the sweat shed during training or the feeling of conquering a new trail.
Phuong's most memorable race was the Ironman 70.3 held in Da Nang in 2016, in which she completed a 1.9km swim, 90km bike ride and 21km run.
"Running was my strong point and I didn't know how to swim and was terribly afraid of water," Phuong said. "Because I was too confident in myself I learnt to swim just three months before the competition began and I found that I was very bad at it. Once, I nearly drowned when moving into a deeper pool."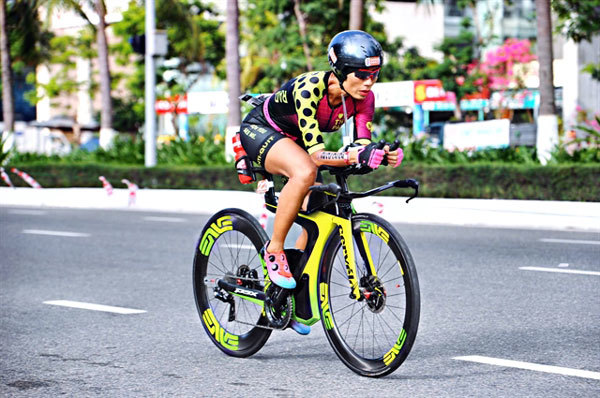 The "steel rose" Nguyen Tieu Phuong will take part in three big races around the world later this year. Photo courtesy of Nguyen Tieu Phuong
"When the competition started, I was still not good at swimming," she said. "Standing in front of the beach, I was very nervous. I hugged my son before swimming, knowing I could drown at sea and never see him again. I decided to be the last person to enter the water to avoid clashing with the other athletes. I tried my best to swim quickly. When I saw the finish line and heard the music coming from the shore, my first thought was that I was alive."
"After swimming, I began to cycle," Phuong continued. "The first 10km on the bike, I had to fight with all my will because my thighs were very stiff from the swim. But while I was pedalling I smiled happily because I knew I had overcome the biggest fear of myself."
Phuong was one of the three winners of the 2016 Techcombank Ironman chosen to represent Vietnam in the Ironman 70.3 Asia Pacific Championships in Cebu, the Philippines the same year.
'Steel rose'
Over the last five years, Phuong has competed in more than 60 domestic and international races. She is called the "steel rose" in the running community.
"I do not have extraordinary strength but I do have nerves of steel," Phuong said. "When I can't breathe because my heart is pounding, I still run through my willpower. When I couldn't bend my legs because of an injury, I hopped to the finish line of a race in Sa Pa. When I was injured for four months in 2015, I still finished marathons in Da Nang, Lang Co, Sa Pa and Singapore."
Runner Nguyen Quoc Thang spoke highly of Phuong.
"She is very disciplined and patient and has a strong will," Thang said. "Even when she is sick or there is bad weather, she still trains every day. I remember that although she was injured in the recent Spring Race, she still finished the 10km race in 49 minutes, a dream time for many young runners, let alone a woman of 46."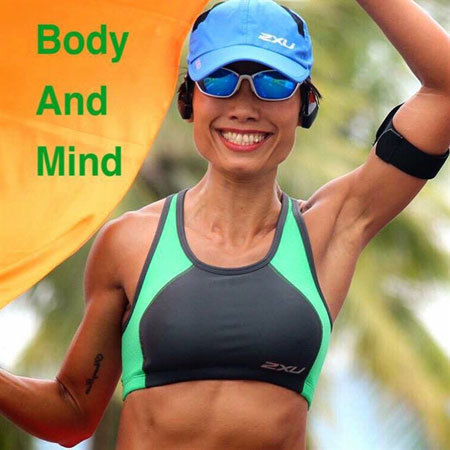 Nguyen Tieu Phuong has competed in more than 60 domestic and international races over the last five years. Photo courtesy of Nguyen Tieu Phuong
To challenge herself, Phuong will run in three major world marathons this year – the Berlin Marathon in September, the Chicago Marathon in October and the New York Marathon in November.
"To prepare for these events, I am still training every day," Phuong said. "Running is part of my life."

Results:


2015


Spring Race: third place in U40+ in 21km
Ironman 70.3 Đà Nẵng Việt Nam: third place in relay team
Laguna Lăng Cô Marathon: winner in U40+ in 42km
VPbank Marathon: winner in U35+ in 1,500m


2016


Spring Race: runner-up in U40+ in 10km
Ironman 70.3 Đà Nẵng Việt Nam: third place in Vietnamese female category
Long Biên Marathon: winner in U40+ in 42km
Halong Bay Heritage Marathon: third place in 21km
Cần Giờ Marathon: runner-up in 42km


2017:


LDR Race Half Marathon: winner in U35+
Việt Nam Jungle Ultra Marathon: runner-up in 70km
Tam Đảo Marathon: third place in 50km
Loop Ultra Trail: third place


2018


Tiền Phong Marathon: winner in 42km
Hạ Long Bay Heritage Marathon: winner in U40+ in 21km
Ultra Night Marathon: winner in 85km
Ironman Đà Nẵng Việt Nam: best relay team
Việt Nam Mountain Marathon: top five in 100km, best Vietnamese runner
Sky Run Bitexco: winner
Techcombank HCM Marathon: runner-up in 40-49 category


2019


Hậu Giang Marathon: winner in 40-49 category
Luxury Landmark 81 - Race to the Summit: winner in 40-49 category
Ironman 70.3 Asia-Pacific Championship: best relay female team
Vnexpress Marathon: third place in 40-49 category
Thanh Nga
VNS