Local police in Huong Thuy Town, the central province of Thua Thien Hue, have just returned a 19th century bronze bell to Nguyen Phuc's family.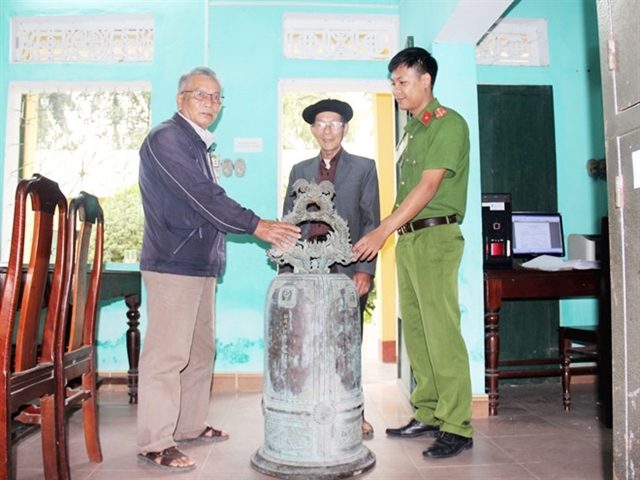 A local police officer returns the 140-year-old bronze bell to Nguyễn Phúc's family in Hương Thủy Town, Thừa Thiên Huế province. — Photo thanhnien.vn
The bell was stolen earlier this year from a temple dedicated to Quốc Uy Công Nguyễn Phúc Thuần (1754-1777, ruling between 1765 - 1777), a national relic site, in Vân Thê Village, Thủy Thanh Commune, Hương Thủy Town that the family manage. He was the 9th ruler of Nguyễn Lord in the southern region.
The bronze bell, cast in 1877, weighs 88.5kg and stands 1.15m in height. On top of the bell, there are two dragons and various Chinese characters, as well as delicate patterns carved round the bell's body.
The bell was seized from two burglars Trần Hữu Chí and Lê Việt Tửu, both from Phong Sơn Commune, Phong Điền District, in the same province, who had robbed a series of antiques from pagodas and temples in the province.
The bell was sold in Quảng Trị and Nam Định before Hà Nội.
Local police also returned two rare ceramic jars stolen from the relic site. — VNS