Long popular with tourists, the Kong film site in Trang An in the northern province of Ninh Binh was packed up and closed to the public last month.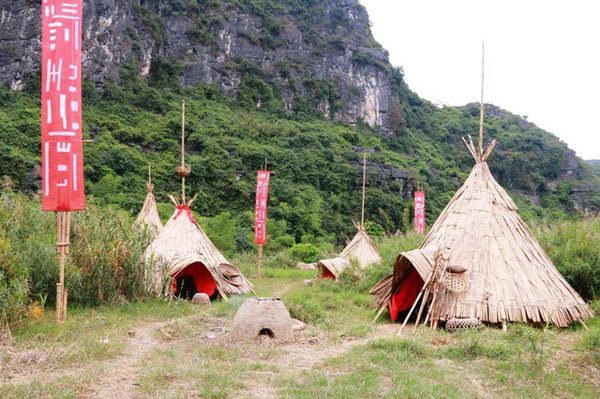 Illustrative image -- File photo
The site was established after some scenes in the movie Kong: Skull Island, directed by Jordan Vogt-Roberts, were shot here in 2016.
The valley inside Trang An Landscape Complex was chosen as a filming location together with nearby Van Long marsh land and Tam Coc waterway in Ninh Binh, as well as Ha Long Bay in Quang Ninh Province and Phong Nha National Park in the central province of Quang Binh.
Local authorities decided to keep the tents, boats, and other parts of the aboriginal village as a tourist destination in Trang An – named by UNESCO as a world heritage site in 2014.
Locals were recruited to act as the villagers, dressing up in loincloths and performing dances so gawping visitors can take their perfect selfie.
Right or wrong, the film site has drawn a lot of attention.
"It's an interesting place," second-year college student Hoa Ha from Hanoi told Việt Nam News during a trip to Trang An. "Just a few hours from Hanoi we can take photos with aborigines. We enjoyed the film site a lot."
"It's a good way to liven up the natural landscape as well as create jobs for locals," said Tuan Hung, who accompanied Ha on the trip.
However, the UN cultural agency is not so keen on the idea of having faux-ethnic villages in heritage sites.
In June, the UNESCO representative in Vietnam warned local authorities that the site does not suit the core values of the natural landscape and cultural heritage.
"Closing the village is necessary to ensure the sustainability of the world heritage site," said Le Quang Anh, an official from the Ministry of Culture, Sports and Tourism.
He said the film site was the product of the provincial tourism sector.
"It will make more sense if we have the film site for a Vietnamese movie – with cottages and scenes reminiscent of the Vietnamese countryside," he said. "It will be more suitable to the surrounding landscape."
Anh said he did not object when the province initially decided to establish the Kong village as he was afraid he might be too old to understand such things.
"I respect other people's opinions and the fact that the film site has drawn a lot of visitors. This shows that the idea was good for local tourism."
When Vietnam submits the dossier of an area to UNESCO for recognition, authorities mention its tourism potential and ways in which the area can be developed.
"This is totally correct when the title "heritage" offers the site a special power to lure tourists," Anh said.
"Just look at the steady growth of visitor numbers to Ninh Binh since Trang An became a world heritage site," he said.
In 2014, the site received 4 million visitors, by 2018 it was 7.3 million.
The need to preserve heritage sites is independent of tourism concerns.
In many cases, the sites come under pressure from tourists, with accommodation, traffic infrastructure and utilities built to make the area more accessible and attractive.
In Trang An, just a year earlier, residents opposed a group of buildings and facilities in the so-called "Ancient Trang An" site with staircases illegally built on Cai Ha Mountain.
The staircases were later removed, which reminded people of other buildings in heritage sites of Hue and Ha Long.
"Now, with the Kong film site, we have learned another lesson about world heritage sites," Anh said.
"The newly-built structures may not violate any heritage law. They may even be interesting. But they still need to suit the common value system of the space."
In this case, though the Kong film site has lured young people and tourists, it is still improper to establish an aboriginal village which has nothing to do with the surrounding landscapes, culture or people.
"I highly appreciated the brave decision by the management board of Trang An Landscape Complex," Anh said.
"I still consider this a regretful case," he said. "If we have more experience in exploiting tourism at heritage site and have a long-term spot, like another place in Ninh Bình Province, we can keep the film site for tourists."
Anh said he could not deny the ability of the film and accompanying experiences to draw tourists to Vietnam.
Successful sites
China and South Korea are two East Asian countries that have properly exploited film sites for tourism.
Vietnamese tourists have flocked to locations in China like Heng Dian World Studios in Zhejiang Province. The 30sq.km site is dubbed the 'Hollywood of the East' – the largest outdoor film site in the world.
More than 1,000 movies and television shows have been shot at the site including Curse of the Golden Flower and Crouching Tiger, Hidden Dragon, which are popular with Vietnamese filmgoers.
"On a recent visit to the site, I met several actors working there," said tourist Vu Thanh Binh from Hanoi. "I heard that the site had 20 film crews working there every day. I wonder why we have not set up such an attraction."
Binh is fond of martial arts and movies by Chinese directors so he enjoyed the trip a lot.
Fans of Korean dramas prefer to travel to Nami Island in South Korea to visit the filming location of Winter Sonata, which marked the start of the 'Korean Wave' to other Asian countries including Vietnam.
"I love the romantic scene in the film with the snowy road under the trees," said Ngan Hanh, from Hanoi. "That's why I wanted to take a tour to Nami Island. I took a lot of photos with statues of the hero and heroine in the film."
Such sites and experiences contributed a lot to the growth of South Korean tourism. Last year, as many as 450,000 Vietnamese people travelled to South Korea, a 41 per cent increase against the previous year.
According to Byeon Dong Hyeon, from Seoul Tourism Organisation, Vietnam has become an important market.
However, even with a focus on boosting tourism number and providing the best trips for visitors, we must never lose sight of the value of our cultural heritage, and strive to ensure they are kept intact for future generations. VNS
Tran Hoang Nam

The film set for Kong: Skull Island will be removed out of Trang An tourist site in the northern province of Ninh Binh.

Taking a boat trip along the gentle streams and through the scenic caves of Trang An scenic landscape complex is a leisurely and fascinating experience for visitors to Ninh Binh.