Vietnamese swimmers will have A chance to earn their Olympics slots this May.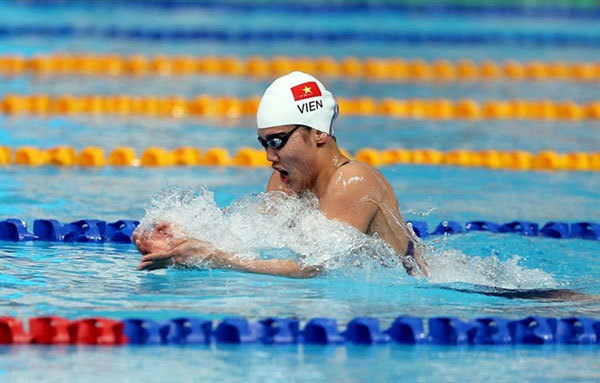 Nguyen Thi Anh Vien seen competing at the 2019 SEA Games in the Philippines. She is expected to win Olympic berth at the National Age Groups Swimming Championship in May in HCM City. — VNA/VNS Photo
The National Age Groups Swimming Championship has been recognised as an Olympic qualification tournament, giving opportunities for former Asian champion Nguyen Thi Anh Vien and SEA Games winner Hoang Quy Phuoc.
"The Vietnam Sports Administration and the Vietnam Aquatic Sports Association (VASA) worked with the International Swimming Federation (FINA) who agreed that results of the age groups event will be counted and athletes who reach standards will be qualified for the Tokyo Games," said Le Thanh Huyen, head of the Administration's swimming department.
To persuade the world governing body who could not send their officials to Vietnam for checking, VASA had to send images of the facility and its equipment which would be used to serve the competition to FINA.
The championship will be held on May 14-19 at the HCM City's Phu Tho Swimming Club which has been approved to host international tournaments.
It is the first time ever a Vietnamese event become an Olympic qualifier.
The championship will be observed by local referees because FINA officials could not arrive.
It will be the last chance for Vien and teammates to secure their opportunities for the summer Olympics.
Vien swam women's 200m backstroke and 400m individual medley in the 2012 Games in London. She took part in the 200m and 400m individual medley and 400m freestyle in Rio de Janeiro four years later. Meanwhile, Phuoc enjoyed his first Olympic time in the men's 200m freestyle in Brazil.
Five years have gone with many changes especially the COVID-19 pandemic.
Both swimmers have no been able to train intensively this year. Phuoc was in a more difficult situation as he is based Da Nang, a hotspot for the novel coronavirus. He was not allowed to swim in the pool and could only exercise in the gym.
Vien is strong in the 400m individual medley and set a record at the Asian Swimming Championship with a time of 4min 37.71sec in Japan in 2016.
To qualify for the Olympics, Vien needs to swim 4:38.53.
Phuoc has to top 1:47.02 in his class and beat his national record of 1:48.07.
"They are in good mental strength currently but it is obvious that no international competition affects their performance," said Ngo Ich Quan, head of the Administration's Elite Sport 2 Department.
"We had no way to help as tournaments were postponed and delayed. We know they can't wait to compete now."
In May, athletes will have an advantage of competing on home ground but they have no strong opponents to practice and push their speed, so it would be a little difficult to reach the standards, according to Quan.
Prior to the age groups event, Vien and other swimmers will warm up at the National Short Course Swimming Championship in Thua Thien-Hue Province in April. The tournament was delayed from mid-March to a new date because of the COVID-19.
Currently, Vietnam have one representative at the July festival. He is Nguyen Huy Hoang who will compete in the men's 800m and 1,500m freestyle classes.  
VNS

Swimmer Nguyen Thi Anh Vien has one wish for Tet – to resume her specialist training schedule in America and help her gain Olympic success.