Hoan Kiem (Sword) Lake and its surrounding streets, located in the centre of Hanoi, have always been considered the heart of the capital city as well as its spiritual and cultural hub. 
Hoan Kiem Lake - The Heart of Hanoi
Sword Lake in fog
Promoting local culture in walking street around Hanoi's Hoan Kiem Lake
Tens of thousands of people from Hanoi and neighbouring provinces came to the square in front of the Hanoi Opera House to show their support for the uprising to seize power from the Japanese on August 19, 1945. — File Photo
The area has witnessed many of the 1,000-year-old city's most historical moments such as the marching of Vietnam's liberation troops to end the resistance war against the French or the rally of Hanoi locals in front of the Opera House to seize power from the temporary administrations during the August Revolution in 1945.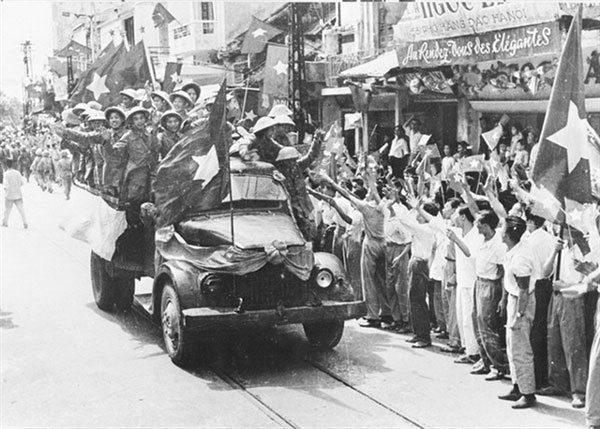 On October 10, 1954, victorious military troops march into the capital city, putting an end to the long war of resistance against the French colonists. In this photo, the troops were warmly welcomed by Hanoi's residents. — File Photo
Dotted with important cultural and sacred places such as Ngoc Son Temple, Dong Kinh Nghia Thuc Square and the monument to King Le Thai To, Hoan Kiem Lake has become an indispensable stop for any visitor to Hanoi.
The streets circling the lake have been turned into pedestrian zone during weekends since October 2016 as part of the city authority's effort to promote the value of the area.
Since the change, many cultural, artistic and entertainment activities have been held around the lake.
Thousands of visitors come to the pedestrian zone surrounding Hoan Kiem Lake every weekend to enjoy the environment and culture of Hanoi – the City for Peace.
Football fans gathered around Hoan Kiem Lake to celebrate Vietnam's win over Qatar to reach the final of the Asian Football Confederation's Under-23 Championship in 2018. — Photo zing.vn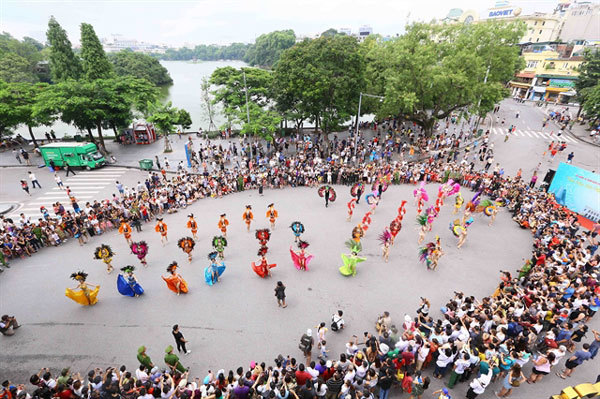 Art groups performing in the first street carnival, "Hà Nội Essence – Convergence and Shine" by Hoan Kiem Lake last July. The event celebrated ten years of the expansion of its administrative boundary (August 1, 2008-2018). — VNA/VNS Photo Quang Quyet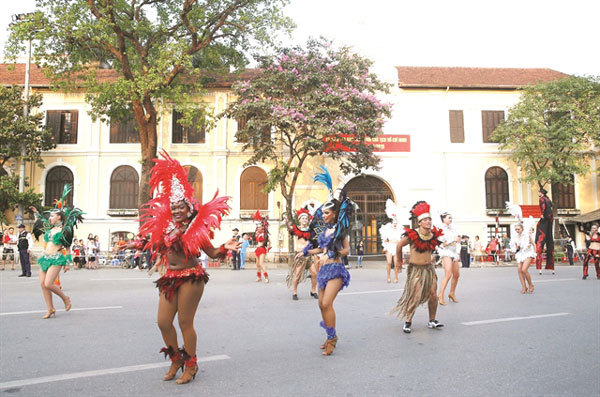 A street carnival held in the pedestrian-only street around Hoan Kiem (Sword) Lake on May 19 had the participation of 80 Vietnamese and foreign artists to promote Hanoi as the "City for Peace". This was the second street carnival held in the capital as part of efforts to boost tourism and create cultural spaces for locals during weekends. —VNA/VNS Photo Lam Khanh
VNS