A talk show entitled Educated – Teaching will take place at Dong Tay Culture Space with translator Nguyen Bich Lan and teachers from the northern mountainous province of Dien Bien.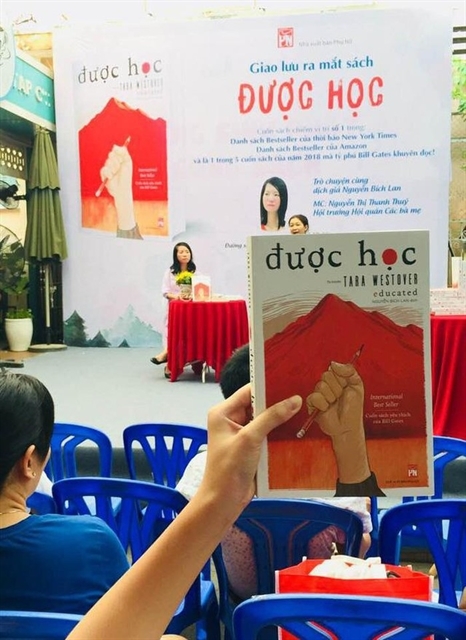 The Vietnamese version of Educated was launched in April. - Photo viettimes.vn
At the event readers will listen to stories about teaching and learn about the difficulties and wishes of 15 teachers from primary schools in remote and mountainous Điện Biên Province, who often have to convince children to attend school.
Lan will introduce her latest translated work entitled Educated, which was published in April.
Due to its popularity, reprints were ordered in May and June and the book has become one of Phụ Nữ Publishing House's best-selling books this year.
Educated is an autobiography by Tara Westover telling the story of a girl living in the mountains of the US who was forbidden to go to school by her father until she was 17 years old.
The desire to study led her to the University of Cambridge where she became a doctor of history.
Lan chose this book to translate to inspire readers, especially younger generations.
"This autobiography is equally attractive as fiction," said Lan. "It shocked the whole US because it is hard to believe. To be educated is joy and happiness."
Educated was a New York Times bestseller and has been recommended by billionaire Bill Gates and former US President Barack Obama.
Lan had a similar experience to Westover and quit school in the 8th grade as a muscular dystrophy sufferer.
Doctors told her that she wouldn't live past the age of 18, but the 43-year-old has defied their predictions to live a full life and taught herself English before becoming a writer and translator.
She has translated 36 books and written four books. Her autobiography is entitled Không Gục Ngã (Never Collapse).
The event will begin at 7pm on Friday at 99 Ngụy Như Kon Tum Street. — VNS