Doan Ngo festival, which falls on June 7 this year, is a kick-off occasion to kill the insects harming the crops.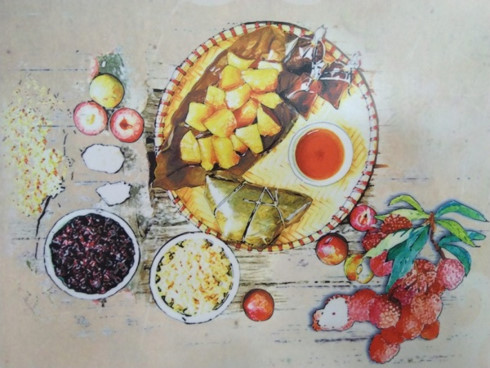 'Killing insects': Some traditional dishes in the festival
Tet Doan Ngo, annually held on day 5 of the fifth month in the lunar calendar, is a significant festival in Vietnam when a number of unusual customs take place to ward away bad lucks and evils including killing insects, wearing five-color charms, coloring nails, thanksgiving among others.
Doan Ngo festival, which falls on June 7 this year, is a kick-off occasion to kill the insects harming the crops, of which many species of worms can be devoured and considered nutritious.
As a part of activities to celebrate the Doan Ngo festival, the "Tet Doan Ngo – Past and Present" exhibition is held at The Imperial Citadel of Thang Long from May 24 to June 30, displaying some vibrant folk cultures and customs, Tuoitre (Young Age) news reported.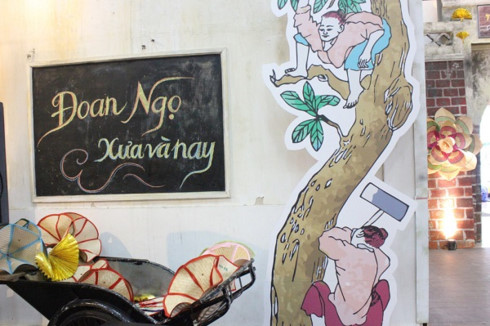 Doan ngo festival then and now: Tet Doan Ngo- Past and Present showcasing some unusual customs of Vietnamese takes place in one the most significant festivals of the year.
Besides, the event also displays a corner of the Old Quarter of Hanoi with herbal medicine shops, hanging animal charms in accordance with the zodiac of the year as well as the unique five-colored handmade paper fan collection of artisan Lan Tuyet.
A space for displaying a herbal medicine shop
In particular, the exhibition showcases some depictions from "Mechanics and Crafts of the People of Annam" of French author Henri Oger, featuring the bizarre customs taking place in the Doan Ngo festival.
The cultural event is expected to bring interesting discoveries to the young generation, who are unable to see many traditional customs as they disappear amid the rapid growth of modern life.
An old book noted that Vietnamese people used to prepare fresh fruits and fermented glutinous rice to worship their ancestors in the early morning and eat them then.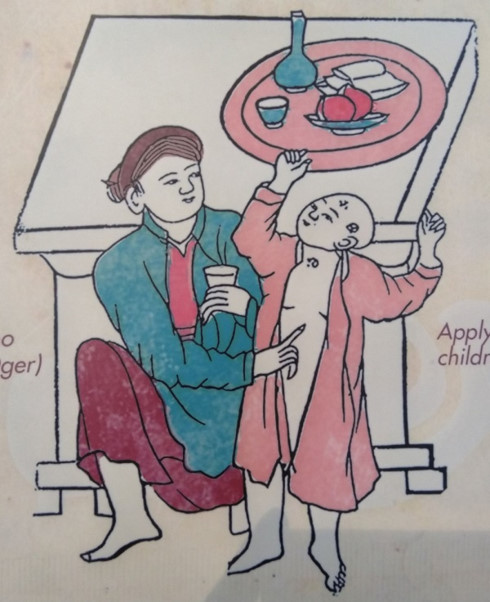 Apply liquor to the child stomach: In Doan Ngo festival, the parent used to apply liquor or oil on their offspring's stomach or forehead as a belief to secure them from bad things.
In the old times of Vietnamese royal  court, the Doan Ngo festival was an occasion for the king to carry out some rituals such as worshiping their late predecessors, showing filial piety, holding feasts and awarding paper fans to mandarins.
Hanoitimes