Hoang Anh Gia Lai (HAGL) football club won all four team and individual awards of V-League 2021 in April, thanks to the team's impressive achievements at the tournament.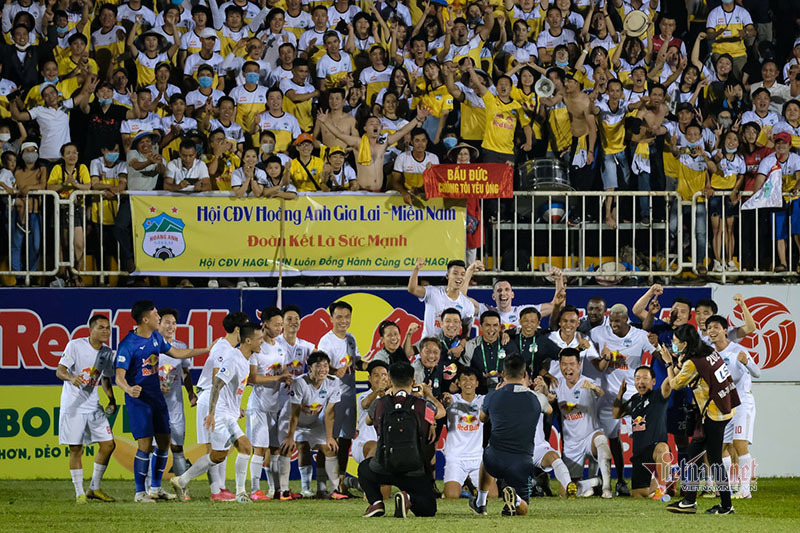 HAGL players.
The team won nearly all of the V-League awards in January and March.
With a series of winning games, HAGL was voted the the best club of the month. Thai coach Kiatisuk greatly contributed to the FC's achievement and he won the best coach title in April.
The other two awards for HAGL are Player of the Month, and Best Goal of the Month. The winners of the two awards are Van Toan (6 goals) and Xuan Truong, with a goal scored in the match against Hanoi FC in the 10th round of the V-League.
The lucky prize winner was an audience member who voted for the best goal, a fan of HAGL FC.
In the 11th round of the V-League, coach Kiatisuk and his players will face Thanh Hoa' FC. This is the next big challenge for Cong Phuong, Xuan Truong and the team. Thanh Hoa has a very good record, with three consecutive winning matches and one draw.
Dai Nam

Thai media praised the strength of the Hoang Anh Gia Lai (HAGL) football club, which is now led by former Thai football star Kiatisuk, and said the team is able to win V-League 2021 championship.

Thai coach Kiatisuk Senamuang is returning to Vietnam to take the position of head coach at Hoang Anh Gia Lai (HAGL) Club in the 2021 season.