Former Thailand striker Piyapong Pue-on believes Hoang Anh Gia Lai (HAGL) coach Kiatisak Senamuang could replace Park Hang-seo as the head coach of the national team in the near future.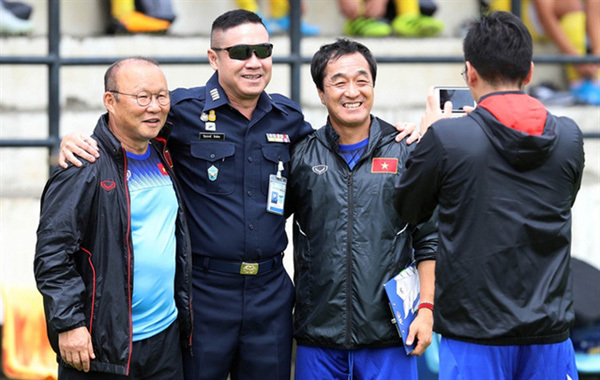 Thailand legend Piyapong Pue-on (second left), a former teammate of Park Hang-seo (left) in the K League, believes that HAGL manager Kiatisak Senamuang could replace Park as national team coach in the future. Photo soha.vn
Since returning to Vietnam as the head coach of HAGL this season, Senamuang has led his team to the top of the V.League 1 table.
The "Thai Zico" has also helped top national team players Nguyen Cong Phuong, Nguyen Van Toan and Luong Xuan Truong return to their best form.
This has led to speculation in Thai media that Senamuang could someday manage the Vietnamese national team.
Recently, Thailand legend Piyapong Pue-on, a former teammate of Park Hang Seo at Lucky-Goldstar in South Korea's K League, has tipped Senamuang to get the job sooner rather than later.
"Kiatisak Senamuang will soon replace Park Hang-seo," Piyapong told sport.trueid.net.
"I think he will soon have a chance to lead the Vietnam national team as he is the hero right now when helping HAGL to perform great this season.
"If Park cannot lead Vietnam to the third qualifying round of the 2022 World Cup, it will be a good opportunity to see 'Thai Zico' become the manager of Vietnam," said the 61-year-old.
"The Vietnam Football Federation will definitely have to think about this. If this happens, then he will definitely have a chance to coach against the Thailand national team," Piyapong added.
Under Senamuang, HAGL beat Hanoi FC for the first time in four years last weekend to stay three points clear of defending champions Viettel.
On April 23, HAGL will host An Giang at home in the National Cup.
Piyapong Pue-on played for Thailand from 1981 to 1997 and scored 70 goals in 100 games for the national team.
In 1984, the striker signed for Lucky-Goldstar club in the K League. In 1985, Piyapong Pue-on contributed 12 goals and six assists to help the side win the K League that season.
VNS

From being Guus Hiddink's assistant in the World Cup 2002, Park Hang-seo has come a long way and become the most successful manager in the history of Vietnamese football.