"The Magic Stick" has debuted in Hanoi as the first-ever combination of circus and "cai luong", a form of Vietnam's folk opera using a signature melancholic song structure nostalgic for the past.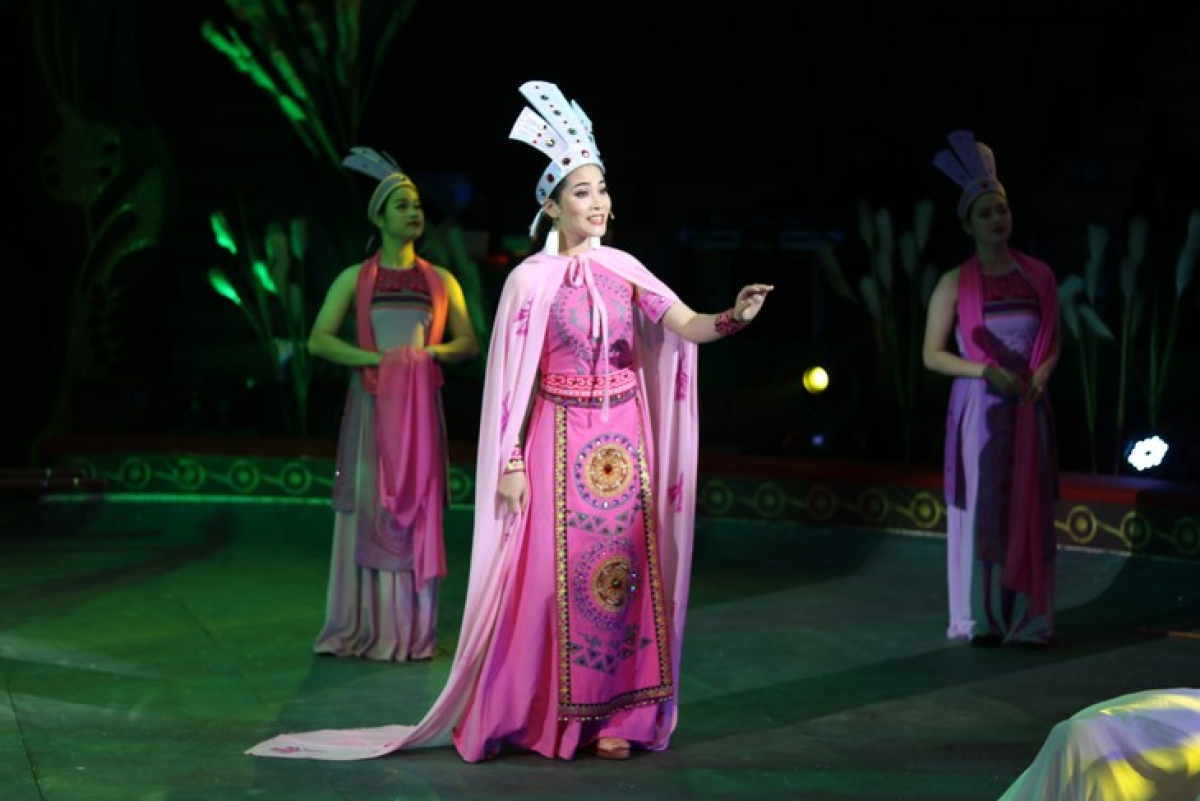 "The Magic Stick" is about love at first sight between Tien Dung, a princess, and Chu Dong Tu, who teach people to do business, fishing and weaving in order to have a joyful and prosperous life. This play is part of an art project called "Huyen Su Viet" (Vietnamese legendary history) conducted by the Vietnam Circus Federation and the Vietnam "Cai Luong" Theatre to honor the four immortals in traditional mythology of Vietnam that Chu Dong Tu is one of them. 
"I was given tickets to take my kids to this show to experience modern circus and learn about traditional culture. The show was really interesting. It was far beyond my expectation. I read the story about Tien Dung and Chu Dong Tu a long time ago but the story has never been as bold as this. The show made it lively in every detail. I loved everything about it, the costumes, the music, the props, and the delivery while my kids were enticed by the circus acts to spice up the 'cai luong' performance –the backbone of 'The Magic Stick'. I will definitely use my own money to buy tickets for the next play." That's how Pham Thi Minh Huyen of Hanoi felt about this show. 
"The Magic Stick" features 100 circus and "cai luong" artists. They've been practicing hard for a long time, two to three times longer than the normal time needed to craft a single circus or "cai luong" show, until the moment they get on stage.
The show begins as Chu Dong Tu, an extremely poor man living in a village called "Da Trach" in Phong Chau (now in Hung Yen province), steps on the stage. He is notified that a princess is about to visit, and quickly hides himself in the sand. As Princess Tien Dung disrobes and begins bathing in the river, the water she pours on herself washes away the sand, revealing the man's completely naked body lying beneath her feet.
Startled by Chu Dong Tu's appearance, Tien Dung quickly covers herself up while the terrified young man lays motionless on the ground, his head turns away begging her pardon. He explains to the princess that he used his only garment to clothe his dead father and hid himself from people and fish in the dark. Moved by his filial piety and honest, Tien Dung quickly falls in love with him and proposes. 
A nice touch is added to Tien Dung's marriage proposal scene as Chu Dong Tu carries her in his arms and the two fly up while singing, followed by a breath-taking performance by two professional aerobatic artists depicting the love story, as Chu Dong Tu finally falls for the beautiful princess and the two get married.
A fun animal show is brought to the stage as neighbors present the new-wed with buffalos and pigs, the main performers of this act. 
But their happy moment really annoys a military mandarin, who has a crush on Princess Tien Dung. 
The mandarin decides to return to Phong Chau to beg for her back. On the way, he is entered by an evil spirit, which wants to destroy all humans around it. From that moment on, the mandarin plots to steal Tien Dung back and overthrow the Hung King – Tien Dung's father and a legendary founder of the Vietnamese nation. This scene is supported by four aerobatic artists, dressing up as black bats, who perform and lift the mandarin up high. 
This is 9-year-old Le Minh Hang's favorite part.
"My favorite part is when the mandarin turns into a monster. He dies but he is still there. I like the string that you can take hold on and fly," Hang said.
The evil spirit also causes an epidemic in the village. Chu Dong Tu must embark on a sea voyage to rescue them. He combats the evil sea creatures to survive. This scene left a great impression on Nguyen Mai Hoa of Hanoi.
"The show is a masterpiece. I really love the scene when Chu Dong Tu is at sea. The acrobats dressed up as black squids hold onto his boat while it is lifted. The boat hangs them in the air where they perform aerobatic acts. Underneath, the orange octopuses fight with the heaven soldiers, who are tasked with protecting Chu Dong Tu, while they perform acrobatic acts on giant springs," said Hoa.   
Chu Dong Tu finally arrives to heaven where the Buddha gives him a magic stick to defeat any kind of evil. Returning to his home province, Chu Dong Tu uses the stick to build a castle for local people. His wife, Princess Tien Dung, taught locals to weave and make handicrafts while waiting for him. Their village soon flourishes and attracts foreign traders. The bustling trading scene is indeed a variety show.
Traders from Persia perform belly dances, fire dances, and flexion. Those from China thrill the audience with their juggling and balancing skills. And traders from Malaysia bring goats. 
The evil mandarin still keeps to his betrayal scheme. "Is this circus? Is this "cai luong? But I hear rap and see contemporary dance", viewers ask themselves as the mandarin and his footmen dance to a rap verse with lyrics: "My destiny is becoming the king". He cooks up a story that Chu Dong Tu and Tien Dung have turned their backs on the parents. The King and Queen are convinced and order the General to arrest them. Taking advantage of Chu Dong Tu's loophole, the mandarin takes away the magic stick and arrests them. 
The act features a magic trick where Tien Dung and Chu Dong Tu disappear from the barrel they are kept in. But the mandarin no longer cares about them. All he wants to do is oust the king. He returns to the capital and is about to use the magic stick to defeat all the royal troops and take the kingdom.
The Buddha reappears and seizes back his magic stick. The evil mandarin is exiled to hell. The King and Queen rush to find their children but Chu Dong Tu and Tien Dung have incarnated to forever bless their people with luck, health, and prosperity.   
The unique combination makes both circus and "cai luong" look like no other. It's a delightful treat to the audience and the performers themselves. "Cai luong" artist Nhu Quynh, who plays Tien Dung, used to face acrophobia. She first thought she couldn't get the role but then gave it a try. She was lifted up high little by little until she got used to it and now, she loves it.
Quynh said, "This play requires Cai Luong artists to perform circus acts, but the simplest acts. I have to swing and sing while being carried by the male lead in the air."
"I remember a practice session when my partner was seriously ill and needed to take medicine, I worried a lot. After swinging for several rounds, he got dizzy and soon fell on his knees when we landed. But now, we are good enough, and I think this scene is one of the highlights of the play. I really love this scene. The big applause from the audience gives me the adrenaline to be confident and keep flying."
Quynh wins herself with the love for "cai luong" and respect from the audience. "Cai luong" artists often feel burned out after every show because they don't get physical training as regularly as circus artists. But they manage to overcome it. Many hard moments turn out to be unforgettable in their lifetime, according to Quynh. 
"At our debut performance, when my character Tien Dung was arrested by the mandarin, I slipped away, and the bag that I was supposed to be kept in was tied in the wrong position. It was followed by a magic trick that requires me to zip out the bag to flee but the hole was too small for me to get out. I was almost suffocated. At that moment I asked myself if I could turn the mic on to call for help. I endured it for a while and tried everything I could. I succeeded eventually but the mishap left several bruises on my arms as you can see," Quynh recalled. 
Sharing Quynh's thoughts, artist Le Hong Yen, who has been performing circus for 12 years, finds "The Magic Stick" refreshing and interesting. Yen was delighted to perform the most complicated aerobatic acts that stun the audience. But she said it's easier said than done. Yen was dispirited the first time circus and "cai luong" artists practiced all together.
"It's really challenging to perform circus acts over 'cai luong' singing because you know, circus requires fast, precise movements that thrill the audience but "cai luong" involves longer-than-usual echo and modified lyrics depending on the artists' feelings," said Yen.
"So when I'm done with my performance, they still sing, and I don't know what to do next. After several practices, we worked out a way to make circus and 'cai luong' fit perfectly. I'm really happy and proud to perform the best act to wow our 'cai luong' partners and the viewers."
Stage performance needs to adapt to modern entertainment tastes and now it has found its way. "The Magic Stick" will be touring Vietnam in 2021 before giving up its stage for other plays from the "Huyen Su Viet" project, which take inspiration from the other three immortals: Princess Lieu Hanh - the leading Mother Goddess in Vietnam, Son Tinh - the mountain god who fights the water god, honoring humans combating natural disasters, and Saint Giong – a symbol of the Vietnamese people's patriotic spirit. VOV

The musical "Les Misérables" will be performed by the Vietnam National Opera and Ballet (VNOB) at the Hanoi Opera House on January 18, 19, 20 and 21.