The producers of the international award-winning Vietnamese film The Third Wife have been fined VND50 million (USD2,173) for 'script violations'.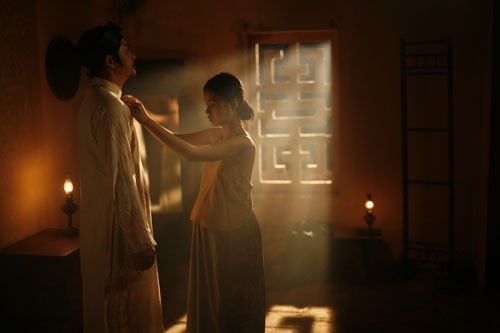 A scene in the the film
Under the Ministry of Culture, Sports and Tourism's instruction, the film has been banned from being screened in Vietnam due to sex scenes featuring the 13-year-old girl main actress.
The suspension was applied from May 20. The ministry also asked the Cinema Department to check the film licensing. 
The Third Wife is the story of 14-year-old May (played by actress Nguyen Phuong Tra My) who struggles with family politics, her own agency, and the prospect of motherhood after she becomes the third wife of a wealthy landowner.
The young actress portrayed losing her virginity and childbirth in the film.
There was controversy over the bed scenes in Vietnam.
Deputy Minister of Culture, Sports and Tourism Ta Quang Dong cited the Cinema Department's report as saying that the department had verified the film script three times. During the process, the film producer Ba Sac Cau Vong Ltd. Co. were made to revise the script to suit the moral concepts of the department.
However, in reality, the screed script was different from what was approved and licensed by the department.
The producer admitted they had changed the script.
The Ministry of Culture, Sports and Tourism decided to fine the film producer VND50 million for the infringement.
The ministry also added that using a 13-year-old girl for the bed scenes in the film was not appropriate.
The deputy minister advised film producers and directors to not only pay attention to conforming to the law but also the moral aspect of their projects.
Nguoi Lao Dong/Dtinews