Drama enthusiasts in HCM City have never had it so good. With eight new plays staged by seven theatres running two shows per day during the Lunar New Year or Tet festival, they are spoiled for choice.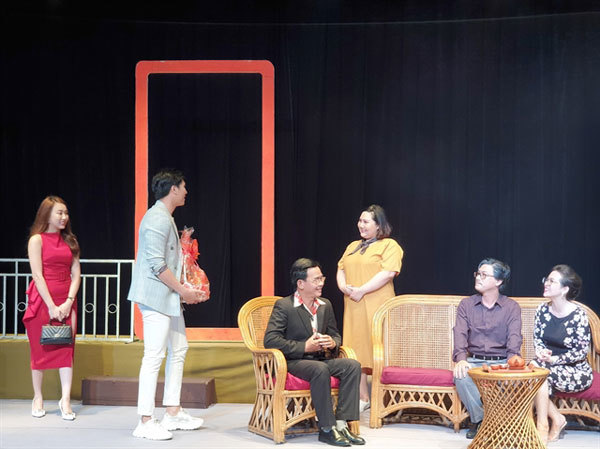 With a series of new plays staged by seven theatres running two shows per day during the Lunar New Year or Tet festival, people in HCM City are spoiled for choice. (Photo from IDECAF)

Comic shows are some of the most popular on offer, with comedians plying their trade at no fewer that three venues downtown: Phu Nhuan Drama Club, IDECAF and Thế Giới Trẻ (Youth World) Theatre.
Phu Nhuan Drama Club is one of the busiest night spots in the city. Three of the sketches performed at the club, Tám Thần Tài (The God of Wealth), Ma Nữ Không Chồng (Unmarried) and Oan Hồn Truyện (Story of the Ghost), have attracted audiences.
These plays feature love, betrayal and karma. More sober entertainment is on offer at the city's first private theatre, IDECAF.

The theatre has a preference for traditional stories from the south like Ác Nhân Cốc (Royal Treasure) and Mưa Bà Tú (Stories in Rain).
The works feature talented actors Thanh Thuy and Dinh Toan.
But others have criticised the theatre, saying its comedy performances during Tet reveal that it is selling its soul to commercialism.
"These comedy plays are not what the IDECAF has become known for," said drama critic Thanh Hiep, a member of the HCM City Theatre's Association.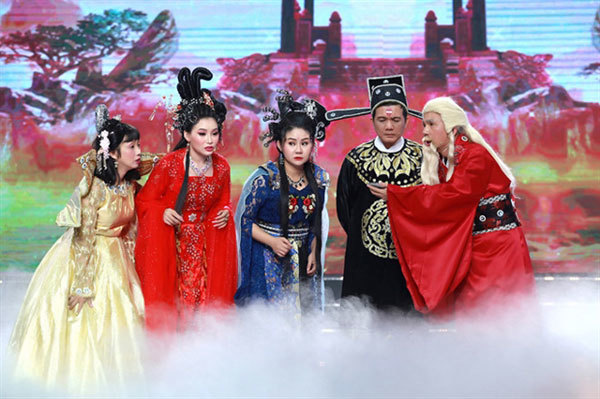 Cai luong performers will offer free shows for thousands of fans in rural areas with sound and light effects at open-air concerts. (Photo from Tran Huu Trang Theatre)

Meritorious Artist and comedian Thanh Loc, art director of IDECAF, disagrees, saying that people, particularly youth, want to be "entertained and forget their problems after a year of hard work so we are trying to make them laugh during Tet".
According to Phu Nhuan Drama Club and IDECAF, tickets have sold out for the week of Tet, which falls on January 24.
Thế Giới Trẻ Theatre, founded 10 years ago, is known for its performances of serious plays which focus on the trials and tribulations of life. But it has changed its tune to meet the taste of audiences on Tet.
The theatre invited famous comics like Thu Trang, Tien Luat and Puka, and its young staff, who are well known for their roles in sentimental plays, to perform in comedies.
For cai luong (reformed opera) fans, artists from the Tran Huu Trang Theatre performed extracts from popular operas such as Huyền Thoại Mẹ (The Legend of Mother) and Ngao, Sò, Ốc, Hến (The Stories of Clam, Oyster, Snail, Mussel) during every night of the Tet festival.
As in previous years, the theatre also selected historical plays like Tiếng Trống Mê Linh (The Voice of Mê Linh Drum) during the season staged by renowned artists like Vo Minh Luan and Tu Suong, offered an interesting feast for cai luong lovers.
"Tet is also the time for people, especially youth, to look back, remember and improve their knowledge about the country's history, traditional culture and lifestyles," said actress Thanh Thao of Tran Huu Trang Theatre.
Thao and her young colleagues have worked to offer free shows for residents living in rural districts.
As their tradition, they will offer performance activities for thousands of fans in rural areas with sound and light effects at open-air concerts.
"We're not looking to make a profit from these shows. All of us are paying more attention to quality," Thao added.
Most of the free shows will begin this week and continue through February 5 at district cultural houses.— VNS
Thu Anh

The musical drama Ngẫm Kiều (Song of Kiều), a production based on the 18th-century Vietnamese epic poem Truyện Kiều (The Tale of Kiều), will be staged on New Year's Eve and New Year's Day in HCM City. 

Two artists from HCM City's cải lương (reformed opera) theatres are competing for 2019's Best Theatre Actress at the Mai Vàng (Golden Apricot) Awards, an annual event launched by Người Lao Động (Labourer) newspaper.