Youthfulness, activeness and a desire to win are traits people can easily recognise in pencak silat martial artist Tran Kim Them.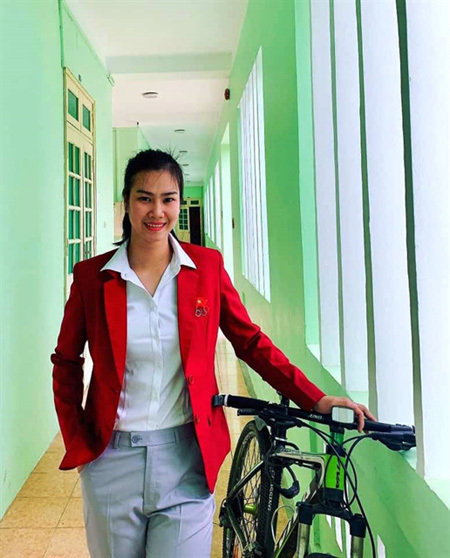 Tran Kim Them is eyeing gold at the upcoming SEA Games. — Photo courtesy of Tran Kim Them
At the age of 23, Them is setting her sights on a gold medal at the upcoming Southeast Asian (SEA) Games.
Two years ago, the Ha Tinh-born Them lost out on a gold medal in the women's 55kg category due to a controversial decision in the final.
Now, she is ready to amend that at the region's biggest sports event. The SEA Games gold medal is the only thing lacking from her medal collection.
Them won gold medals at the Asian Pencak Silat Championship in India last October and the World Pencak Silat Championship in Singapore last December.
Thanks to Them, Vietnam also proved their power at big events. They finished second at the World Pencak Silat Championship with six golds, three silvers and four bronzes, and topped the Asian tournament with 13 gold medals, leaving behind them runners-up Indonesia with only three gold medals.
"At continental competitions, referees are usually impartial. That is why Vietnamese martial artists achieve more at these events," said head coach Nguyen Van Hung.
At the Hanoi-based National Sports Training Centre, Thêm is training hard for the Games.
She is determined to win fairly so the referees have no choice but to judge her performance.
"I feel comfortable and don't have any pressure on the upcoming Games. In the women's 55kg category, all the athletes are very strong. However, I am ready for the Games," said Them.
"I've prepared very carefully for the event and I'm determined to win. The referees are an issue that my teammates and I have to accept. However, I think that if I put on a strong show, the referees will have to recognise it," Them added.
Born in 1996 in Thach Dong Commune, Ha Tinh Province, in a poor family, Them started training when she was in eighth grade without permission from her parents. In 2012, she signed up for the provincial junior team, and two years later she was called up to the national senior team to train professionally in Hanoi.
"I began to train when I was in eighth grade and skipped school to go to classes. My teacher phoned my mother and I was spanked.
"My mother thought that learning martial arts for a girl was very dangerous and would make it difficult for me to find a husband, so she tried to stop me. But I found a way to train, and after seeing my passion, my mother supported me," said Them.
"When I started training professionally, my family backed me totally and my mother said I had made the family proud," Them added.
According to Them, even as a martial artist, she is really afraid of confrontation.
"When I trained in martial arts, I also learnt many things about morality so I have never had to use kung fu," said Them.
One of the difficulties Them faces is ensuring her weight ahead of the competition.
Them often weighs 57kg so she needs to drop 2kg to meet her weight division.
"In the summer, it is very hot, but I wear a raincoat to run. I follow a strict regime to keep my weight down," said Them.
Due to the heavy training, Them sometimes loses sleep and suffers shoulder and neck injuries. However, her training has paid off.
Besides, world and Asian gold medals last year, Them also took silver at the World Pencak Silat Championship in 2015, gold at the ASEAN Pencak Silat Championship in 2016, gold at the Asian event in 2016, silver at the Asian Games in 2018, and a string of gold medals at the national championships.
This year, she also proved herself with a gold medal at the World Beach Pencak Silat Championship held in Thailand in October.
At present, Them is a fourth-year student at Bac Ninh University of Physical Education and Sports. After retiring from competition, she intends to become a coach to train youngsters in Ha Tinh Province.
"I have around 10 years of training in pencak silat. In the future, I want to be a coach to train junior martial artists in my province. That is a chance for me to continue improving my knowledge and impart my experience," said Them.
Vietnam's pencak silat team will compete at the SEA Games from December 2-6 with 10 athletes competing in the men's 50kg, 55kg and 60kg categories, and the women's 50kg and 55kg divisions.
According to Nguyen Van Hung, head coach of the national team, the have targeted only two gold medals because they are not strong in the lightweight divisions. VNS
Thanh Nga

A team of Vietnamese martial artists have secured a number of medals including seven golds, eight silvers, and six bronze medals at the first World Beach Pencak Silat Championship 2019 which recently concluded in Thailand.

Vietnam finished second at the first World Beach Pencak Silat Championship which closed in Phuket, Thailand, on October 4.