Midfielder Ngo Hoang Thinh is fully recovered and ready for V.League action against Quang Ninh today.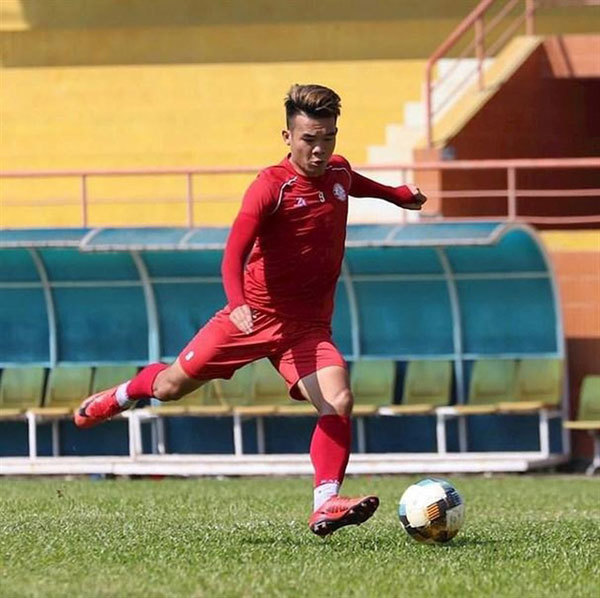 Ngo Hoang Thinh will return to play as HCM City host Quang Ninh in V.League 1 today. — Photo baonghean.vn
The HCM City star has been out of the game for three weeks after twisting his ankle just a few minutes into the match against Viettel on April 20.
It's perfect timing for Thinh who will be back on the pitch as his team search for a victory to keep them in top spot.
"My leg is ok. I can play as normal now. I am really excited to get back to competition and hope to help HCM City win this match," Thinh said.
Playing without Thinh, HCM City struggled in the league earning just four points from three matches. Their only win was a 2-1 victory over bottom team Sanna Khanh Hoa on May 6.
This season, the former national midfielder has scored two goals playing in a box-to-box position helping both defence and attack.
The Nghe An Province-born Thinh trained at the football hub of Song Lam Nghe An. He is key under coach Chung Hae Soung who considers strong defence a top priority.
HCM City are currently on top of the ranking with 20 points after nine matches.
Quang Ninh meanwhile are hoping to enter the top three. They currently sit in fourth place with 14 points, two less than third-placed Song Lam Nghe An.
A win over HCM City would temporally push them to third place.
The match will be held at the Cua Ong Stadium from 6pm and will be live on VTV6, Bong da TV and Bong da TV HD.
A day later, Song Lam Nghe An will have chance to replace Ha Noi FC in second if they beat Sanna Khanh Hoa on at home turf in Vinh City.
Song Lam Nghe An have 16 points, two less than Hanoi who will entertain SHB Da Nang the next day.
Khanh Hoa were a dark horse last year, beating almost all the top teams. But this season that form has escaped them.
With just one win, two draws and six losses, Khanh Hoa have five points remain rock bottom.
Their last year's strong defence was broken as players reached the end of their careers, among them Chaher Zarour, Dao Van Phong and Tran Trong Binh who are all 34 years and older. They have conceded 19 goals in the V.League 1 and seven other in the National Cup to date.
Their front line is also under performing with their strikers finding the net just 12 times this season.
Song Lam Nghe An meanwhile are heading in the right direction as their young players show a maturity beyond their years.
The former champions lost only once to defending champions Hanoi this season. Their defence has also performed to the max, letting in just five goals since the season started and in their last five games, they have won two, drew two and lost just once.
VNS