Three artists have been fined VND10 million ($435) each for spreading false information about the coronavirus epidemic on Facebook.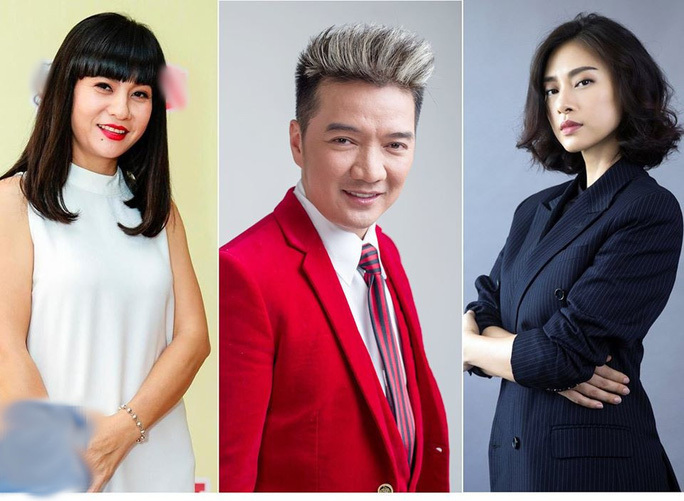 From left to right: Actress Cat Phuong, singer Dam Vinh Hung, and actress Ngo Thanh Van have been fined for spreading false information about the coronavirus epidemic.
The Ho Chi Minh City Department of Information and Communications announced on February 12 that they have issued a fine of VND10 million to three local artists including pop singer Dam Vinh Hung, actresses Ngo Thanh Van and Cat Phuong for spreading false information on Facebook, which would badly affect social order.
The three artists had been invited to come to the ministry's headquarters to work with the inspectors. Here the artists admitted that they had posted false information on their Facebook accounts without careful checking.
On January 26, singer Dam Vinh Hung wrote on his Facebook page that two Chinese people died from coronavirus at Cho Ray Hospital.
On her Facebook account, actress Cat Phuong ran a status saying that coronavirus has been detected in District 1 and will soon spread to Districts 3, 5, and7."
On January 31, actress Ngo Thanh Van wrote on her fan page that there were still flights between Vietnam and China's Wuhan City while the Civil Aviation Administration of Vietnam had already stop granting licenses for flights on that route at that time.
The three artists had removed the false information and sent apologies following opposition from the public.
Several other people were previously fined for the same reasons.
Facebook user fined for spreading fake news on coronavirus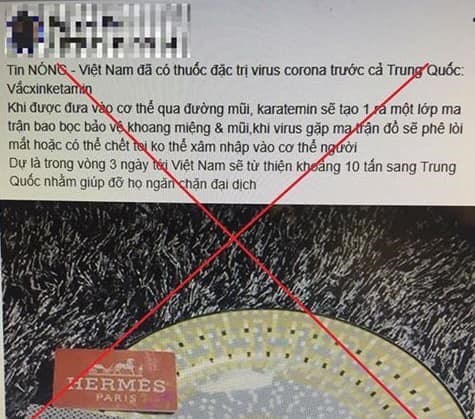 Screenshot of the Facebook post by N.Đ, a 17-year-old boy in Hà Nội's Sơn Tây Township. The poster was fined for spreading fake news on a vaccine against coronavirus. — Photo screenshot from N.Đ's Facebook.
Police in Hà Nội's Sơn Tây Township have fined a local teenager VNĐ6.25 million (US$269) for spreading fake news about the use of drugs to treat acute respiratory infection caused by a new strain of coronavirus.
N.Đ, 17, residing in Trung Sơn Ward in Sơn Tây Township, posted a status on his Facebook account saying that Việt Nam has found a vaccine that can stop coronavirus – ketamine.
He explained that ketamine, after being put into the human body through the nose, will create a protective matrix covering the mouth and nose. The coronavirus would not be able to penetrate the body and soon die due to this protective matrix.
The post stated that Việt Nam would donate about 10 tonnes to China to help them stop the epidemic.
Ketamine is a drug used to induce loss of consciousness, or anaesthesia, in veterinary medicine and is used for some surgical procedures in humans. It can produce relaxation and relieve pain in humans and animals.
However, it is also a commonly abused as a "recreational" drug like ecstasy, due to its hallucinogenic, tranquilising and dissociative effects. The drug has been banned in Việt Nam.
The post attracted many likes and comments from other users. He later removed the post.
At the police station, accompanied by his parents as guardians, the poster admitted making up information to get attention. Dtinews/VNS
More people in Vietnam have been fined for spreading false information about the coronavirus epidemic.  

Abuse of social networks to post or share false information will carry fines of 10 million – 20 million VND (430 – 860 USD), according to a decree recently issued by Prime Minister Nguyen Xuan Phuc.