Vietnamese forwards Nguyen Tien Linh and Ha Duc Chinh are in the running to claim the title of top goal scorer at the SEA Games 30.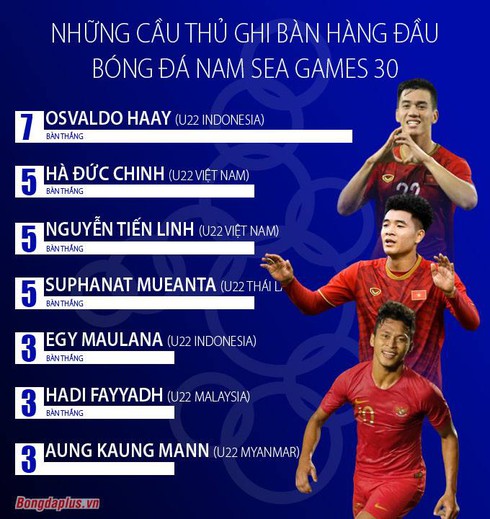 Tien Linh and Duc Chinh in contention to be top scorer at SEA Games 
During the national team's final Group B fixture against Thailand, Tien Linh scored two goals to see Vietnam fightback to draw 2-2.
Thanks to the fantastic two-goal display put on by Tien Linh, Vietnam successfully finished Group B in first place on 13 points, a single point higher than second-place Indonesia.
At present, Osvaldo Haay of Indonesia is the tournament's top goal scorer with seven goals, although Vietnamese pair Tien Linh and Ha Duc Chinh aren't far behind on five goals each.
The Vietnamese forwards will have two more matches at the SEA Games in which they could win the top goal scorer title at this year's competition. VOV

Captain and star midfielder Nguyen Quang Hai could miss the rest of the Southeast Asian Games after picking up an injury, bongdaplus.vn reports.

Vietnam's U22s advanced to the semifinals of the 30th SEA Games men's football after making a remarkable comeback draw against Thailand on December 5.