Female weightlifter Hoang Thi Duyen was not able to win a medal in the women's weightlifting competition under 59 kg in the competition on July 27 at the Olympic Tokyo 2020.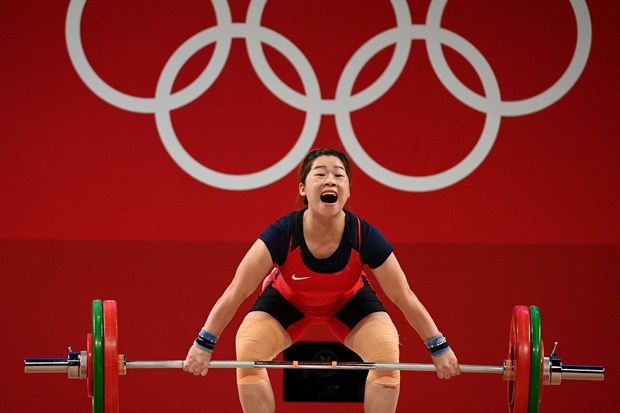 Weightlifter Hoang Thi Duyen competes at the Tokyo 2020 Olympics on July 27 
In the snatch event, Duyen registered a starting weight of 95 kg, but it took her two times to lift this weight. On her third try, the athlete decided to raise the weight to 98 kg but she failed to make it and ended at the 4th place in the event.
In the clean and jerk event, Duyen started with 113 kg and she succeeded in the first attempt. But when raising the weight to 119kg, she failed in both the second and third attempts. As a result, she only reached a total of 208 kg, ranked 5th overall.
Despite her best efforts, Duyen could not make a surprise at this year's Olympics. In the women's 59-kg category, Kuo Hsing-Chun of Chinese Taipei won the gold medal while silver and bronze went to athletes from Turkmenistan and the host country Japan, respectively. Notably, Kuo Hssing Chun broke Olympic records in all three events of snatch (103 kg), clean and jerk (133 kg) and general lift (236 kg). She also holds the world record in this category./.
Source: VNA