Vietnamese residents aged 18-40 are encouraged to participate in the CJ Short Film Making Project in HCM City.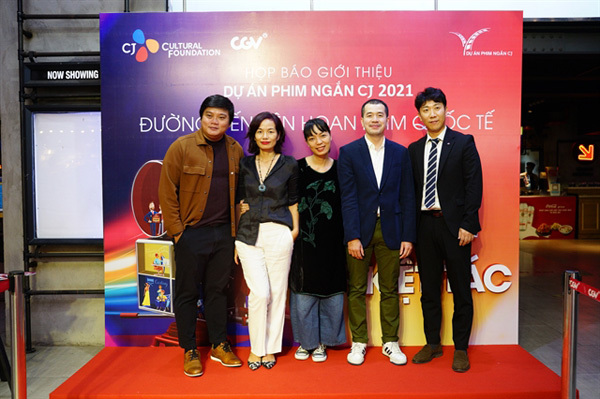 The country's leading filmmakers Tran Thanh Huy, Tran Thi Bich Ngoc, Nguyen Hoang Diep, and Trinh Dinh Le Minh (left to right) are judges and mentors for the CJ Short Film Making Project 2021. Photo courtesy of the organisers
Contestants can send their entries to the organiser by May 18 at http://duanphimngancj.cgv.vn. 
Eligible entries include a short film (not a comedy or an animation made in the last three years, an outline for a new film project, and a detailed plan for filmmaking.
The best five projects will be given VND300 million (US$13,000) each to make the films.
The judges, consisting of the country's leading filmmakers Phan Dang Di, Nguyen Hoang Diep, Trinh Dinh Le Minh, Tran Thanh Huy, and Tran Thi Bich Ngoc, will be mentors of the final five during the filmmaking process. They will ensure that the films meet qualifications for international film festivals.
Huy, director of Ròm, who earned VND55 billion ($2.37 million) in 10 days from his film, said: "As an independent filmmaker, I went through a lot of challenges in the beginning, so I truly understand the difficulties that young talents have to face when first approaching filmmaking."
"With all of my experience, I hope to fully support the contestants," he added.
The winner of the contest will be announced in January 2022.
Tran Nhat Hoang, deputy director of International Cooperation Department under the Ministry of Culture, Sport and Tourism, said: "The CJ Short Film Making Project returns in time when the film industry needs a restart, and thousands of young people need a playground to practice their skills and continue to make their dreams come true." 
Road to film festivals
The CJ Short Film Making Project was initiated by the CJ Cultural Foundation and CJ CGV Vietnam in 2018, aiming to bring works by Vietnamese filmmakers to top international film festivals.
The contest received 250 entries in 2018 and 300 in 2019.
All the entries have featured different genres, and various topics and stories covering aspects of life and humanity.
Many productions from the contest have been selected to screen and compete at over 50 international film festivals around the world.
The highlighted work is Một Khu Đất Tốt (Blessed Land) by director Pham Ngoc Lan, which was nominated in the Berlinale Shorts category at the 69th Berlin International Film Festival in Germany in 2019.
The film also won Best Film at the International Competition for Fiction & Documentaries at the 16th VIS Vienna Shorts Festival in Austria in 2019.
Hãy Thức Tỉnh và Sẵn Sàng (Stay Awake, Be Ready) by Pham Thien An won the Illy Short Film Award at Quinzaine des Réalisateurs (Directors' Fortnight), an independent section held in parallel to the Cannes Film Festival in 2019.
In addition, Mây Nhưng Không Mưa (Live in the Cloud -- Cuckoo Land) by Vu Minh Nghia and Pham Hoang Minh Thy was nominated for the Orizzonti Short Films Competition at the 77th Venice International Film Festival in Italy in 2020.
The other films, Ngọt, Mặn (Sweet, Salty) by Duong Dieu Linh and Bình by Pham Quoc Dung, had their world premieres and were included in the Wide Angle section at Busan Film Festival in 2019 and 2020, respectively.
All productions from the contest are screened for the public at CGV Art House after they compete at international festivals. 
VNS

Young people and students around the country are encouraged to participate in the HCM City Short Film Contest 2020, which was launched by the HCM City Cinematography Association with its partners this week. 

"À La Carte" and "Impermanence" are two Vietnamese short films that are being screened at the L.A. Shorts International Film Festival 2020.