Goalkeeper Ho Van Y has made national headlines for his outstanding performance after Vietnam earned a slot at the 2021 Futsal World Cup finals.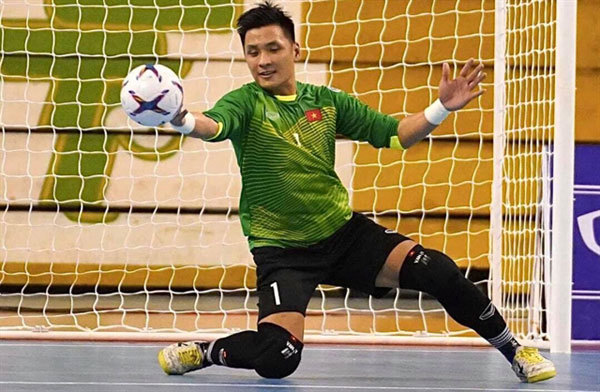 Goalkeeper Ho Van Y performs outstandingly to help Vietnam advance to the finals of this year's Futsal World Cup. Photo vtc.vn
"I am not a hero. It was my humble contribution to team's success," Y said after Vietnam's 1-1 draw against Lebanon at the World Cup playoff's second leg in Dubai, the UAE on Tuesday.
The scoring draw brought Vietnam to the world's biggest competition for the second time on the away goals rule.
"I am the last line of defence to prevent the other team from scoring. My job is to keep my net safe. It helps my teammate feel free to do their mission in the attack," said Y.
"It is great I have completed my duty. The whole team are heroes. Complementary words would be a strong encouragement to push me up." 
Futsal boy
Football is the favourite game of most kids worldwide and Y aged 24 is no exception.
The little boy chose to play as shot-stopper in every match in his Dien Ban Town, Quang Nam Province.
He gradually moved from school to district level competitions and his experience from these matches combined with his diligent studying of the art of goalkeeping made him into a quality amateur custodian.
When the first-year student participated in a friendly football match in 2015, his skills caught a scout's eyes who invited Y to have a trial for the futsal team Hoang Thu Da Nang FC.
Y impressed, became a professional player and was called up to the national U20 team in 2016 at the age of 19. A year later he was a member of the national senior squad.
But his career really took off when he moved to national multi-time champions Thai Son Nam in 2018.
"Y is a talented player who impressed our former coach Bruno Garcia Formoso and he asked me to bring him to Thai Son Nam," said Tran Anh Tu, president of Thai Son Nam. "And he is great with what he has shown in three years with us."
He helped Thai Son Nam win the national championship title that year while he took the Silver Ball statue for the second-best player of 2018.
He also won the silver from the AFC Futsal Clubs Championship with Thai Son Nam months later. These achievements meant he named one of the top 10 goalkeepers in the world in 2018 by futsalplanet.com.
In 2020, goalkeeper Y set up a record by not conceding a goal throughout the entire domestic season.
His incredible performance helped Thai Son Nam secure their 10th national title and be one of the world's best 10 clubs. Individually, he received his second Silver Ball award.
Speaking at the awards gala, the 1.83m-tall player said the title was both pressure and encouragement for him to be better in the future.
"He is young and has a brilliant future. He knows how to keep himself at his peak to be a stronghold for any team," national head coach Pham Minh Giang said. 
Asia's top keeper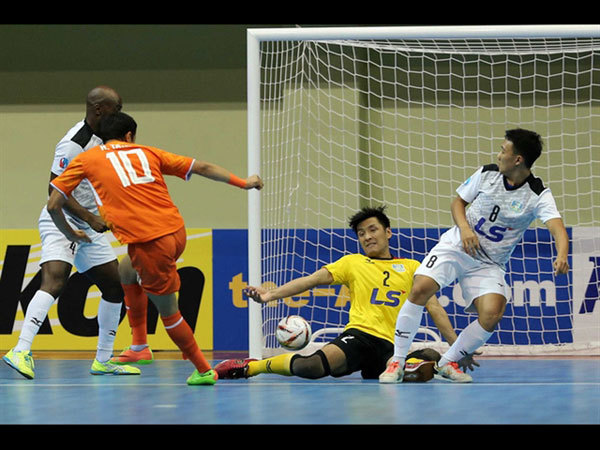 Ho Van Y (middle) has been No 1 custodian of Thai Son Nam FC and the national team for years despite his 24 years old. Photo thethao247.vn
Goalkeeper Ho Van Y is the best penalty saver in the country, can jump well and has wonderful agility and fast reflexes. His fantastic co-ordination and excellent distribution help a lot in starting attacks.
Though he is a shot-stopped, Y has also scored. His finish in the AFC Clubs Championship in 2019 helped Thai Son Nam beat Naft Al Wasat of Irag 6-4 in the group stage.
"I have no secret at all. I just follow exercises for goalkeepers in training. While in competing, I keep a comfortable and focused mind and good communication with teammates," said Y when asked about how he denied about 20 threatening chances from Lebanon. 
"They are strong but we are not weak. We have suitable tactics and we have researched to know them carefully."
Talking about the player, former national coach Miguel Rodrigo said Y is excellent and said Antonio Garcia (Vietnam's goalkeeping coach) has helped train him to become one of Asia's best.
Rodrigo added that he should test himself at the highest level in Spanish club competition and not waste his talent in Vietnam.
Y and his team returned home yesterday. They will be in quarantine for 21 days before the local league returns to action in Khanh Hoa Province in July if the COVID-19 pandemic is well controlled.
"My goal is to help Thai Son Nam defend the title. I am hoping to win my first Golden Ball after two silver ones. The best goalkeeper of the year title too," said Y.
"But my personal targets rank behind national duties. I will work hard with teammates for the World Cup campaign. We need to fix our scoring abilities and one-on-one situations. I believe we also need some things that could make special at the event of big faces. It will be great if we and I play well in my first World Cup." 
VNS

Vietnam secured a 1-1 tie with Lebanon in the return leg of their playoff on May 25, clinching a berth for the 2021 FIFA Futsal World Cup finals for the second time, thanks to the away goals rule.

The Vietnamese national futsal team has won a card to the World Cup, thanks to the great contribution of coach Pham Minh Giang.