At the National Sports Training Centre in Hanoi, Quach Thi Lan is training hard ahead of this summer's Tokyo Olympics.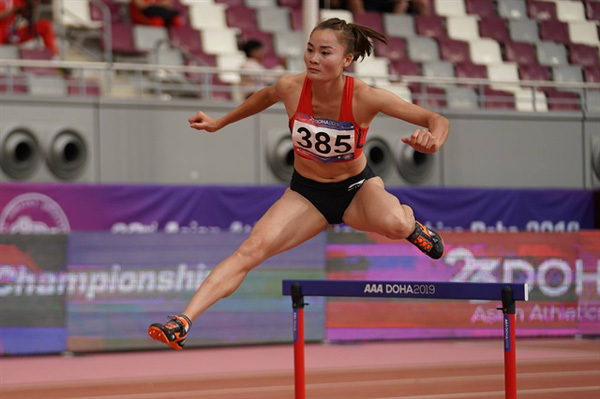 Quach Thi Lan is expected to compete in the Olympics for the first time in her career. Photo nld.com.vn
Last week, Lan was the only Vietnamese track and field athlete nominated to compete in the Tokyo Olympics through a wildcard entry by the Vietnam Athletics Federation.
If she is approved in early July, she will compete in the Olympics for the first time in her career in the women's 400m hurdles.
As it is for all athletes, competing in the Olympics is set to be a career highlight for Lan and with little time left until the Games begin, she's sparing no effort to prepare.
"With her form and skills, Lan completely deserves to represent Vietnamese athletics to compete in the world's biggest sporting event," national athletics coach Vu Ngoc Loi told Việt Nam News.
"In Asia, Lan is a leading athlete. If she maintains her fitness to run under 56 seconds, she will be able to pass the qualifying round," Loi added.
Lan was born in the central province of Thanh Hoa and is from the Muong ethnic group. At 1.75m tall and with especially long legs, she is considered a rarity in the Vietnamese athletics team.
At the age of 25, Lan still has the potential to do great things in athletics, something she has worked for her whole life. 
Youth for training
Lan and her brother Quach Cong Lich, a 400m runner and hurdler, are a rare pair of siblings in Vietnamese athletics and the pair have been training at the Hanoi-based National Sports Training Centre for about 10 years.
The Muong girl went through many challenges in her youth, from difficulties training overseas to suffering injuries and coming back stronger than ever.
From 2013 to 2015, Lan was selected to be trained in Bulgaria and the US to improve her skills. During that time, she broke the youth national record in the women's 400m event with a time of 52.80secs, which stands to this day.
Now, she is under the guidance of coach Nguyen Thi Bac and Bulgarian expert Vladimir Hristov.
Achievements
The 400m hurdles is Lan's best race due to her long legs. She won gold medals at the Asian Athletics Championships 2019 in Qatar at 56.10secs and Asian Games 2018 (ASIAD) in Indonesia at 55.30secs. She is also the holder of the national record of 400m hurdles with a time of 55.30secs.
In the women's 400m event, Lan won the 2014 ASIAD bronze medal in Incheon, South Korea. In addition, she brought home a gold medal from the 2017 Asian Athletics Championships in India. She also bagged many relay medals at the SEA Games and other international tournaments.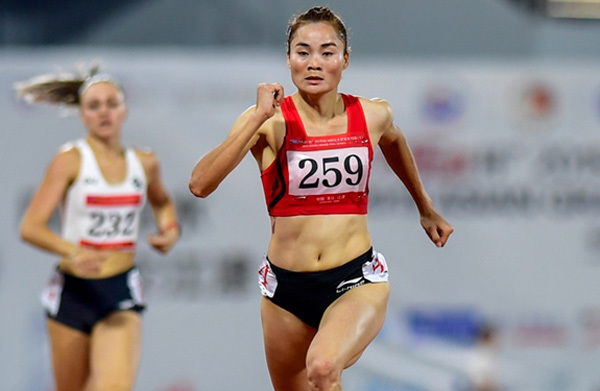 Quach Thi Lan runs a free fitness centre in Hanoi with her friends. Photo qdnd.vn
Psychological issue
Despite her success, Lan has long struggled mentally in competition, especially when she has had to compete against Nguyen Thi Huyen, who is two years older than Lan and has won many SEA Games gold medals as well as spot in the 2016 Olympics 400m and 400m hurdles.
Lan's previous meetings against Huyen on the 400m and 400m hurdles races in the SEA Games always ended with Huyen on top. Lan often lost to Huyen by a tight margin and despite having golds from many more important tournaments, Lan is still empty-handed in the SEA Games in two individual events of 400m and 400m hurdles.
At the 30th SEA Games in the Philippines in 2019, Lan also lost to Huyen in both 400m and 400m hurdles although Huyen had only recently returned to training after a year of giving birth. But at that time, Lan was not in the best shape because she hadn't fully recovered from her injury.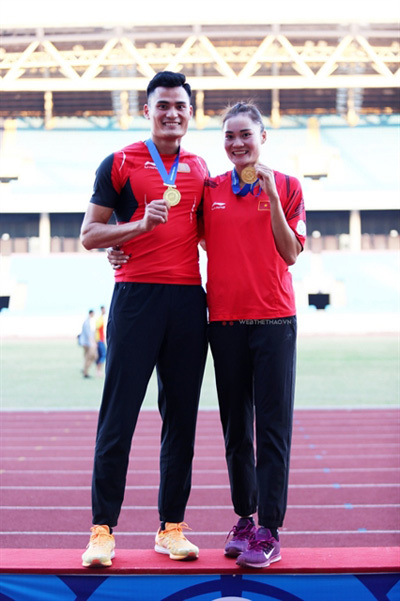 Quach Thi Lan and her brother Quach Cong Lich. Photo webthethao.vn
Change
Since that tough defeat, Lan has completely changed and is more confident than ever.
Regaining her form after injury, confidence and overcoming her mental issue, she defeated Huyen in the two important events last year.
Lan bested Huyen in the Speed Cup in HCM City last June in the 400m to take a gold medal, while at the National Athletics Championships in Hanoi last November, she also beat Huyen in both 400m and 400m hurdles.
Lan is on the threshold of a breakthrough and was the first Vietnamese athlete, alongside football star Nguyen Quang Hai, to be awarded a full scholarship in business administration from the University of Economics and Business.
Currently, Lan is both studying and running a free fitness centre in Hanoi with her friends. Most of her time though is spent preparing for her shot at Olympic glory. 

In the last two Olympics, Vietnamese track and field athletes have qualified directly. Nguyen Thi Thanh Phuc and Duong Thi Viet Anh competed in the London Olympics 2012 in walking and the high jump, respectively. While at the Rio Olympics 2016, Nguyen Thanh Ngung competed in walking and Nguyen Thi Huyen in the 400m and 400m hurdles.
At the 2008 Beijing Olympics, Vietnamese athletics received wildcards to participate, with Vu Thi Huong racing in the 100m and Nguyen Dinh Cuong in the 800m.
At present, Vietnam have eight athletes qualified for the Tokyo Olympics including Nguyen Huy Hoang (swimming), Le Thanh Tung, Dinh Phuong Thanh (gymnastics), Nguyen Hoang Phi Vu, Do Thi Anh Nguyet (archery), Nguyen Van Duong (boxing), Luong Thi Thao and Dinh Thi Hao (rowing).
VNS

Tran Dinh Son will be 24 when the Southeast Asian Games (SEA Games) are held in Hanoi in November and December. Expectations are high that he will celebrate this Year of the Buffalo, his "birth year", with a win in the 400m individual event.

Vietnamese athletes have been forced to cancel their flight to Poland in order to compete in the World Athletics Relays as a way of qualifying for the upcoming Tokyo Olympics due to the impact of the COVID-19 pandemic.