Director Le Nguyen Dat, head of HCM City College of Theatre and Cinema's Traditional Art, is one of the many role models from across the country studying and following the ideology, morality and lifestyle of President Ho Chi Minh.
VietNamNet's Ha Lan interviews Dat about his career. 
Traditional arts programme targets young audiences
Performance honours traditional art form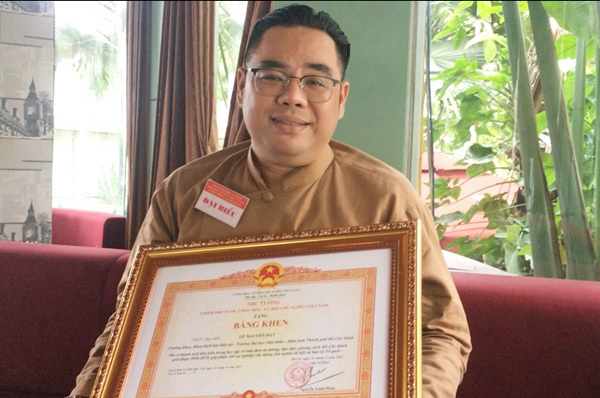 Director Le Nguyen Dat.
How do you you feel to receive Prime Minister Nguyen Xuan Phuc's merit certificate in Hanoi?
I have received a lot of merits and certificates in my career, but the Prime Minister's merit certificate is very special.
I don't think that I am honored to receive the certificate because I see so many exemplary people throughout the country. They make sacrifices for those around them. When I listen to their stories I see my contribution is small. Many of them dedicate their whole life to the community and that touches me.
To be honoured and recognised is a great encouragement for me as well as my colleagues.
How did the late President's style influence you in your life and work?
When President Ho lived he was interested in the national cultural identity. If a country does not have its own identity it is difficult to have a status to talk to other countries.
During my career, I realised that all Vietnamese traditional arts are recognised by the world thanks to its cultural and art values.
We have many difficulties but there are still many people who love and pursue the traditional arts.
In my school, every year many young people take the entrance exam to cải lương (reformed opera) faculty. We care for them and consider them future ambassadors for the traditional arts and cải lương in particular.
I see my colleagues in other traditional art genres such as chèo (traditional opera) and tuồng (classical opera) who work hard with passion for the art.
How did you become a cải lương director?
I was born in HCM City and cải lương is in my blood. After that my family moved to Cần Thơ Province to live where cải lương is very popular.
I asked my mother could I go to HCM City to learn cải lương. It was almost my fate. When I realized that performing wasn't for me, I decide to learn how to direct.
I'm happy to be the one of people who inspires the younger generation. My hope is that cải lương will be welcomed by more audiences.
My colleagues, my students and I are implementing projects which we hope to bring the art closer to the audience.
You are seen as one of artists to renew cải lương. How do you do that?
It can be said there is a gap between the older colleagues and me. I know it is still late but I think that it has a chance.
I have to work hard being in different roles such as manager, teacher and director. I am fortunate to have the support of my colleagues who have created good conditions for me.
I have a task to narrow the gap between the generations. We focus on human training with a view to preserve the national cultural heritage.
We are happy even when we have just one or two young artists only from a training course but that shows not many young people want to pursue the traditional art.
I am always interested in finding new things that can be successful or not. At the national festivals I like to experience new things for my work.
Maybe I fail but my efforts are recognised by the profession. I also try to get trends even in teaching methods and in popularising cải lương.
Young artists have to renew old roles. It raises conflict in the public but I encourage them a lot.
Are there any disadvantages for traditional artist compared to modern arts?
Generally, traditional artists are more disadvantaged than others. They work very hard to create a theatre product but the salary does not meet their lives.
The biggest disadvantage is they have not chance to perform every night. That irregularity discourages the artist.
Sometimes my family wants me to quit my job. Some people say cải lương have completed their mission and are just like something to remember.
It is right to say cải lương and other traditional arts are difficult to maintain. But it does not mean that it is going to disappear from our art and culture heritage.
If we do not make changes in time in the next five or ten years, cải lương will fade away. I think that cải lương has opportunities to develop if we have proper development strategies.
VietNamNet/VNS