The 30th Southeast Asian Games will be Tran Thi Yen Hoa's last, but she expects to go out with a bang in the women's 110m hurdles.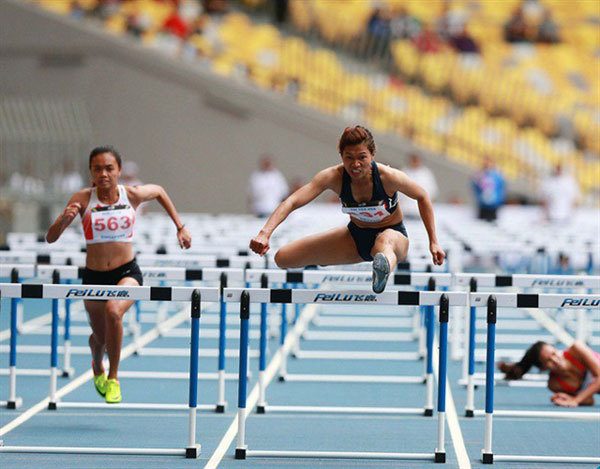 Tran Thi Yen Hoa (right) runs to the finish line at the 2017 SEA Games' 110m hurdle in Kualr Lumpour. — Photo webthethao.vn
Hoa is the only member of the national athletics team who has a master's degree in sport training that is still competing.
"It is my third SEA Games and will be my last," said 29-year-old Hoa four weeks ahead of the biennial tournament.
"And I have prepared everything for this last time."
Nam Dinh Province-born Hoa shone when she was younger with medals for her school and the province at the National Games.
At the age of 14, Hoa became a member of the Military athletics team where she competed for six years.
"Under the Military jersey I also pocketed a number of local titles. It was really a good environment nurturing talents but I still wanted a change and decided to become a student of the University of Physical Education and Sports 3 in Da Nang," said Hoa.
That decision changed her life.
During her four years studying in Da Nang, Hoa fell in love with a man from Thua Thien-Hue Province. In 2014 she signed up to compete for the central province in the women's 110m hurdle and 4x100m relay.
"I was a coach for Thua Thien-Hue Province from 2013 and a year later the province won the gold medal in the 110m hurdle and it was Hoa's success," said Vu Duc Loi, who is now the national team coach.
"She was a newcomer but she beat my best athlete at that time. Her performance was so good that it first I thought she had used drugs," said Loi.
Hoa has dominated the event at the national level since then.
In 2015, Hoa was named in Vietnam's SEA Games delegation to compete in Singapore.
Together with three other teammates, she claimed a silver in the 4x100m.
Earlier, she won her first SEA Games medal after finishing third in the 110m hurdle with a time of 13.64sec. It was a pity for the Vietnamese runner who fell when she jumped over the last hurdle and was passed by Wallapa Punsoongneun of Thailand and Dedeh Erawati of Indonesia, who came first and second, respectively.
"After the fall I knew that my technique must be improved a lot because hurdling requires both power, speed, rhythm and reactions, in which rhythm is really important as it keeps me from stumbling," said Hoa.
Two years later in Malaysia, it was time for her to shine.
Quartet Le Tu Chinh, Do Thi Quyen, Le Thi Mong Tuyen and Hoa defeated Thailand to win the 4x100m event. With a time of 43.88sec, they set a new Games record, beating the old one of 44.36sec by Thailand which had stood for 10 years.
Later in the 110m hurdle, Hoa did not start well and had to chase her rivals in the first 40m. But her great sprint in the latter half of the race pushed her ahead and she won gold with a personal best of 13.40sec, ending Vietnam's 22-year drought in the event.
The last 110m hurdle Vietnam won was at the 1995 Games in Thailand by legendary runner Vu Bich Huong.
Some said Hoa's 110m hurdle gold was a miracle because she trained for the event practically by herself.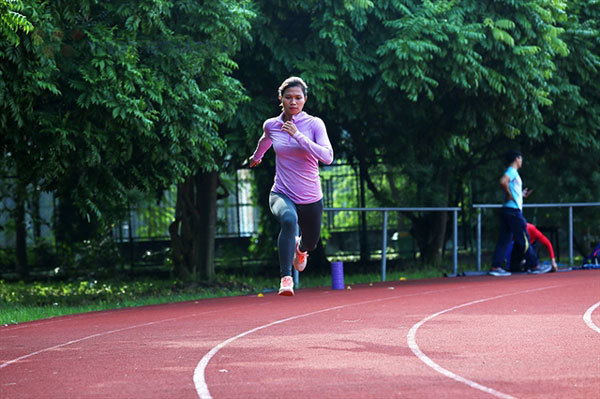 Master degree holder Tran Thi Yen Hoa practises in Hanoi to prepare for her last SEA Games. — Photo webthethao.vn

As she only had coaches who did not specialise in hurdles, Hoa had to search for information online and learn from elite athletes' videos.
"I had to watch their clips again and again. I have learnt a lot from them and gradually perfected my skills," she said.
As well as competing, Hoa kept her eyes on her studies. By the end of 2018, Hoa scored another 'gold' with her master's degree.
"The knowledge that I have collected from the two-year master's course helped me a lot in training. I hope that in the Filipino Games I can apply what I have learnt and have good results in both individual and team events," said six-time national champion Hoa.
In preparation for the Games, Hoa and some teammates took part in a pre-SEA Games tournament in the Philippines last month.
Hoa is in intensive training in Hanoi currently and is expected to secure one gold among Vietnam's targeted 13 in total in athletics this Games.
"Yes, I always set a target for every tournament, of course the latest should be higher than the previous, this Games too," Hoa told Việt Nam News.
"But like people say 'don't count your chickens before they hatch', I will not reveal it now. Let me feel free and reach my goal," said Hoa.
In the Philippines, athletics will be held from December 6-10 at the Athletics Stadium, New Clark City, Tarlac Province.

Vietnamese runner Quach Thi Lan has been awarded two gold medals for her performance at the Asian Championships 2017 following the announcement that first-place finisher Nirmala Sheoran of India has tested positive for a banned substance.

Vietnamese runner Nguyen Tien Hung won Vietnam's biggest mountain race - Vietnam Mountain Marathon (VNM) 2019 - the seventh of its kind, in Sa Pa town, the northern mountainous province of Lao Cai on September 22.
VNS