Despite bearing teasers about sexual issues, offensive music, or ludicrous content, or perhaps because of these, there are many low-quality videos that somehow find their way on to YouTube's Top Trending chart, 
to the chagrin of many in Vietnam's entertainment industry.
This also brings up a question: should such a chart be used to judge an artist's success or otherwise?
The Top Trending chart was initially of interest to professionals and listeners due to the criteria for videos to secure a spot, as announced by YouTube Vietnam: "Attracting a wide range of viewers; not being clickbait; staying abreast of trends; being new and bearing special meaning."
A representative from YouTube also confirmed that a top position could not be bought.
"A video with the highest views on the day may not be in the Top Trending, while a video with a lot of views may not be ranked above others with less, even if it has all the necessary elements," he explained. "We synthesise the criteria to select the most accurate Top Trending list, which is updated every 15 minutes."
In terms of music, Top Trending used to be followed by viewers and musicians as it properly evaluated and selected excellent music videos in both sound and visuals.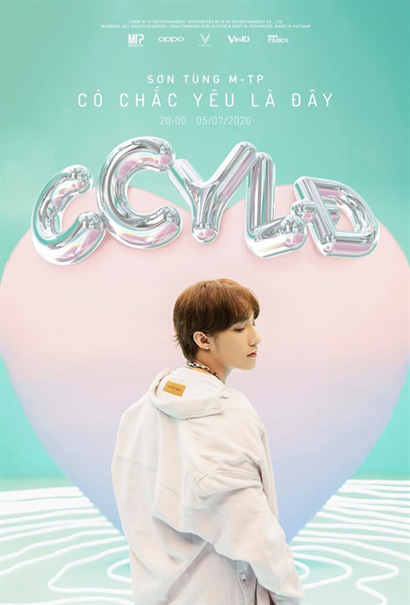 Son Tung M-TP. (Illustrative image) – Photo Facebook M-TP Facebook
Some videos even helped to introduce Vietnamese music to the world or caused a stir on international musical charts, like Hãy Trao Cho Anh (Give it to Me) by Son Tung M-TP, while others were inspired by national culture combined with EDM music, like the work of Hoang Thuy Linh.
But there seems no point in following the Top Trending anymore, as 90 per cent of the Vietnamese music videos making the cut are surprisingly poor quality and released so recently. Some of the singing is even worse than the video quality.
The music video Em Đã Thương Người Ta Hơn Anh (You Have Loved Him More Than Me) was censored by YouTube, disappearing from Top Trending and losing its monetisation status because of sensitive content deemed unsuitable for teenage eyes and ears.
But just a few days later, it was back on the chart.
Web dramas and parodies have also attracted a lot of views from young people and constantly rank highly in the Top Trending.
While videos with positive and meaningful content are few in number, those with violent and ludicrous content are in abundance, which is a worrying situation given that they're targeted at viewers of a very young age.
Thiên An Official, a channel that specialises in web dramas and parodies, frequently has videos on Top Trending in Vietnam. But they too often depict violence at school or among gangs. They may be "entertaining" today, but in the long term could nurture "seeds of rebellion".
Contemporary trends
According to songwriter Nguyen Nhat Huy, Top Trending is a simple reflection of viewership and should be understood as being temporary. Here today, gone tomorrow.
"Having top position doesn't prove its creators have talent," he said. "Rather than trying to get a place on Top Trending, they should spend time on their singing, image and style, to leave a lasting impression on people."
YouTube Vietnam saw the emergence of a new name last year, Vlog 1977, who posts videos made in an old film style, from the costumes and visual effects to the sound.
Inspired by classic Vietnamese literature, the videos are not only entertaining but also promote Vietnamese literature. It now has some 2.3 million subscribers.
Another channel that has recently won hearts is Ẩm Thực Mẹ Làm (Mother's Cuisine). Outrunning other videos on the Top Trending, Mother's Cuisine became one of the Vietnamese representatives at the YouTube FanFest 2020.
In the world of YouTube, where clickbait tricks abound, it's comforting to see that tranquil scenes of a countryside mother cooking popular Vietnamese dishes can still leave an imprint and spark a sense of nostalgia among viewers, especially those far from home.
Creating a channel on YouTube is like creating art: aesthetics and quality beat popularity every time. VNS     
Phuong Ha

A new music video by Vietnamese pop sensation Son Tung M-TP, Có Chắc Yêu Là Đây (Is It Truly Love), has shot to the top of the trending YouTube Vietnam charts.  

Many show organisers have incurred big losses due to postponed and cancelled shows due to the Covid-19 outbreak.