A TV series on the life of fishermen on Lý Sơn Island in central Quang Ngai Province attracted many viewers in the region after its first episode aired on HCM City Television (HTV) last weekend.
Daily life on Ly Son island
Tour of Ly Son island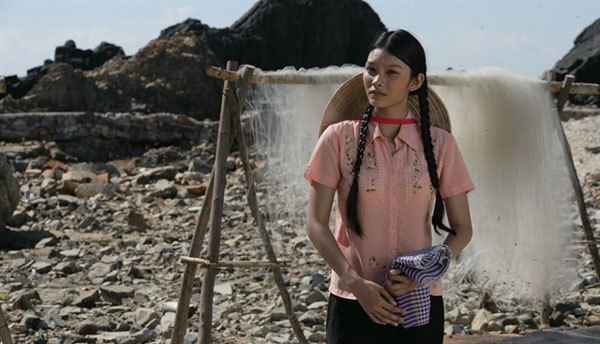 A scene in Đảo Khát (The Island), a 20-part TV series featuring the life of farmers in fishing villages on Ly Son Island in central Quang Ngai Province that airs on HCM City Television's HTV9 channel. Photo courtesy of HCM City Television's Film Studio
The 20-part series, Đảo Khát (Island), is adapted from a famous short story by female writer Nguyen Ngoc Tu, winner of the Viet Nam Writers' Association Award in 2006.
Its 25-minute episodes feature lively scenes on Ly Son by a professional staff led by director Le Phuong Nam, who is also the film's scriptwriter.
The film depicts the life of young villagers, focusing on the challenges and conflicts they face to reach success in fishing.
It highlights the love between Min, a young woman from Hai Nghia Fishing Village, and Van, a doctor who volunteered to work on the island.
Through their love, the thoughts, hopes and dreams of local farmers are featured.
"Audiences can learn more about Vietnamese seas and people living on Ly Son, and share their challenges after watching it," said the film's director Nam.
Nam and his staff travelled around Ly Son to talk with local farmers to learn about their work.
"I saw and learnt many new things," Nam said in an interview with local media.
"I worked hard to make my screenplay realistic to help audiences, particularly youngsters, understand the life of Ly Son fishermen who have worked hard to develop their land."
Nam's film also captures the images of seas, landscapes, and locals in their daily life.
"Through my film, the beauty of our seas is highlighted," Nam said.
Đảo Khát stars young actors such as Thanh Tung, Tuan Phuong and Thanh Tu.
"I spent three months living on Ly Son. I believe the film's messages about life, love and family will help audiences," said young actress Thanh Tu of HCM City, who plays Mịn.
Ly Son, known as the 'Kingdom of Garlic', has around 21,000 residents, 73 per cent of whom make their living from farming garlic and spring onions, and fishing.
Local farmers produce more than 2,500 tonnes of garlic per year.
The island has special fossilised rocks believed to date back 4,000 to 6,000 years, and tombs belonging to the Sa Huỳnh culture from the first and second century.
The island attracts 200,000 tourists each year.
Visitors can view centuries-old houses used to worship the souls of sailors who died during long voyages to the Hoàng Sa (Paracel) and Truong Sa (Spratly) islands during the Nguyen Dynasty (1802-1945).
One of the island's most popular sites is a museum displaying more than 200 ancient documents and 100 exhibits that prove the Hoang Sa and Truong Sa archipelagoes belong to Vietnam.
Local authorities and residents are working to have the island recognised as a Global Geo-Park by UNESCO.
"Đảo Khát is one of our new films on Vietnamese seas, islands, and farming community this year," the film's producer Ly Quang Trung, director of Ho Chi Minh Television's Film Studio, said.
"We have spent both human resources and finances to produce TV programmes focusing on these themes which provide audiences, particularly youth, knowledge and information about the country's seas and islands," he added.
Đảo Khát airs on HTV9 at 10pm every Tuesday, Wednesday and Friday.
By Thu Anh
VNS