Lộn Xộn, a musical band popular among the underground community in Vietnam, will organise their first show at Van Ho Exhibition Centre on August 17, after three years pursuing a professional music career.
 Lon Xon band wins Sing My Song contest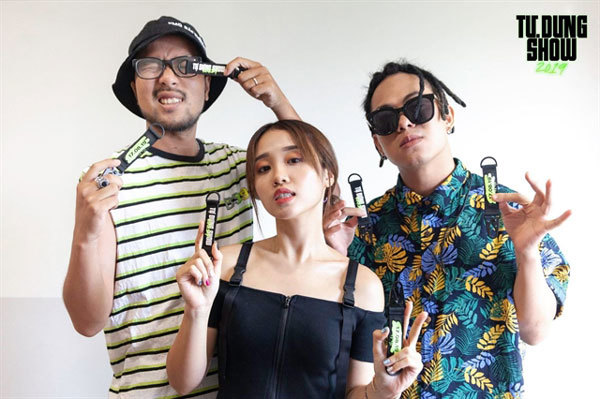 Vietnam's Undeground Lộn Xộn Band will organise their first live show on August 17, after three years pursuing a professional music career. — Photo thethaovanhoa.vn
Entitled Tự Dưng (Sudden), the show is the event of many "firsts".
"This is the first time Lôn Xộn have produced a live show, the first time cooperating with famous brands, the first time selling clothes at the event, the first time wearing in-ear headphones while singing and the first time performing with dance crews," said band leader Nguyen Viet Hung, aka Rica, at the press conference announcing the Sudden show.
Particularly, it would also be the first live show in Vietnam to sell tickets in the form of key chains. With the spirit "nothing will be left behind after the show", Lộn Xộn chose eco-friendly materials for the tickets and water cups that can be recycled.
"That's why the main colour of Sudden is the green of nature, to integrate into the flow of a green and fresh life," Rica said.
Sudden is also the first show that Lộn Xộn will perform with other bands which are popular like Mew Amazing, Huynh James & Pjnboys and Kick Off band. It will be divided into three parts including about 20 songs composed by the bands themselves.
The name of the live show originates from a song by the group which is also the inspiration for their efforts to get closer to the audience over the past three years.
"Sudden is Lộn Xộn's aspiration to create a musical night with professional investment in terms of techniques, stages and scales," Rica said.
"That puts pressure on our band because we have not been trained professionally; however, it would be a challenge for Lộn Xộn to conquer and we believe that we will not disappoint the audience," he continued.
"As someone said: 'If we find it easy, it means we are going downwards. If we find it difficult – like how Lộn Xộn prepares for the show recently – it means we are going upwards."
The band leader also revealed that security, safety, fire regulations and stimulant use would be tightened according to law.
"Lộn Xộn believe that music should always be associated with serious disciplines and civilised attitudes of both artists and audience in order to create a complete programme," he said.
According to Rica, Sudden will limit the audience to 1,000. Children under five are recommended not to attend the live show as the sound volume might affect their hearing; meanwhile, children under 14 have to be accompanied by adults. There are also other regulations like no lighters or smoking allowed in the venue.
Explaining why the ticket prices are odd numbers – VND215,000 (US$9), VND254,000 ($11) and VND286,000 ($12), Lộn Xộn revealed that those figures are meaningful to them, representing the birthdays of its three members.
After Sudden, Lộn Xộn will introduce a new song which they wrote with Mew Amazing – a singer and songwriter who won three awards at the 2016 Cống Hiến (Devotion) Music Awards.
Tickets can be purchased via Ticketbox.vn or at Boo fashion stores.
Lộn Xộn were established in September 2016 with three members – Tran Quynh, Nguyen Viet Hung and Phan Thanh Nhan. Their songs are inspired by life and social issues such as traffic congestion. After three years, the Vietnamese underground band have consolidated its position in Vietnam's music scene.
The band were declared winner of the second season of Sing My Song contest 2018 for its hip-hop and rap song, Hmmm. They were nominated in the New Artist Category at the 2019 Cống Hiến (Devotion) Music Awards organised by Thể Thao & Văn Hóa (Sports & Culture) newspaper.
VNS