All of this week's V.League 1 matches have been postponed due to the COVID-19 pandemic.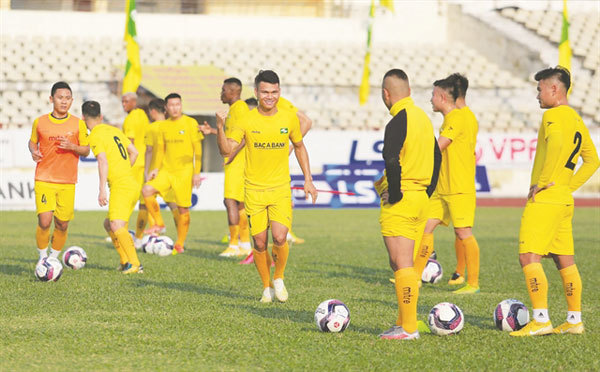 SUSPENSION: Song Lam Nghe An players seen during their training session before being quarantined because of the COVID-19 pandemic. Photo danviet.vn
The Vietnam Professional Football Company (VPF) announced the postponement after most of the Song Lam Nghe An (SLNA) first team had contact with a person who is a close contact of a COVID-19 patient recently, making him designated F1.
The man on Thursday went to a healthcare centre in Vinh City and said he was on the same flight from Da Nang to Vinh on April 28 with a woman who tested positive for SARS-CoV-2 on Tuesday.
The players reportedly had breakfast at a café with the man.
To ensure the safety of players, coaches and the community, all SLNA players have been quarantined at the club facility and the VPF was forced to delay their game against Hanoi FC on Friday.
The 27-year-old F1 man has tested negative for the virus once and has been quarantined at the healthcare centre for the next tests.
The fixture was one of seven matches scheduled for Friday evening in the last round of fixtures in the first period of the season.
All the games were to be played at the same time to avoid match fixing, so the organisers decided to postpone all the games to an unknown date.
With this latest delay, all national football tournaments have been stopped.
Earlier, the National Women's Football Cup's third-placed playoff and final which were scheduled for May 8 suffered same fate, while the matches for fifth and sixth places were cancelled.
The last match held was between Khanh Hoa and Pho Hien of the V.League 2 in Nha Trang on Thursday. It ended 1-1.
The V.League 2 has also been suspended. It is the second time that football activities have been postponed because of the COVID-19 this year. The first time was in January.
VNS

Song Lam Nghe An's head coach Ngo Quang Truong and president Nguyen Hong Thanh have both resigned after a run of poor results.