Coach Kiatisuk Senamuang will have little time to prepare Hoang Anh Gia Lai as the new V.League 1 season will begin in the middle of next month.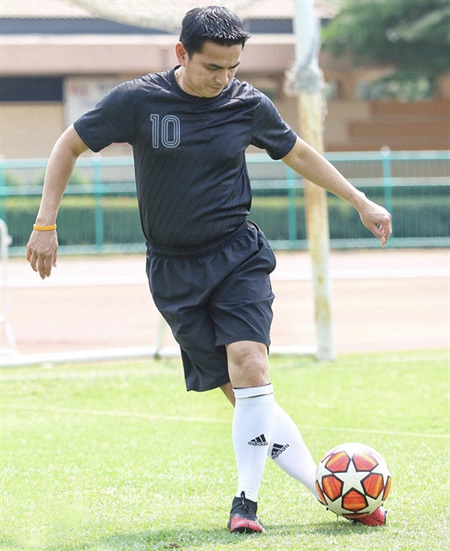 Kiatisuk Senamuang must rush into working with Hoang Anh Gia Lai to prepare for the 2021 V.League. Photo nld.com.vn
The 14-team national premier league will start on January 16, including 13 V.League 1 squads from last season and Binh Dinh who were promoted after winning the V.League 2 title last season.
Teams will compete in a similar format to 2020. They will play in a round-robin competition in the first period which ends on July 17. The top six teams will advance to the final round from July 25 to September 19. They will vie for the title while the other eight will play to avoid relegation.
The champions will pocket a bonus of VND3 billion (US$130,000) while the worst team will be relegated.
The club who place second from the bottom will play the second-ranked squad of the V.League 2 in a playoff game for a berth in the V.League 1 in 2022.
Teams can register four foreign players including one with Vietnamese parentage, while those who are to compete in the Asian Football Confederation tournaments can have a fifth player of Asian heritage.
Hoang Anh Gia Lai are hoping to reach new heights under the former Thailand national head coach who will arrive Vietnam on December 17 and be quarantined for 14 days.
The 'Thai Zico' said in the first year, Hoang Anh Gia Lai will not target the title. His task would be pushing the team past seventh of eighth in the table, where they have finished in recent years.
Senamuang, who won the V.League 1 as a player in 2003 and 2004 with Hoang Anh Gia Lai, said he was confident to start a new, tough and challenging adventure.
His first match will be against Sai Gon FC on the away ground of Thong Nhat Stadium in HCM City.
Sai Gon were a phenomenon in 2020 as they flew high without a star in the team under president Vu Tien Thanh as head coach.
They were among title favourites until last two rounds before finishing third and earning a slot in the AFC Cup.
In preparing for the coming season, Thanh has signed 11 players and is trialling seven others. He is also expecting to sign three foreigners from Japan after 19 players left in November.
Thanh said his team are stronger and will play better in 2021.
Reigning champions Viettel FC will host Hai Phong FC in the opening match of the league, according to the draw held on Saturday in Hanoi.
"The first match is always a difficult one for all teams. But we will prepare carefully and play as well as possible," said Viettel goalkeeper Tran Nguyen Manh at the event.
"I hope that both Viettel and Hai Phong make a dedicated and beautiful game to supporters."
Viettel won the title after winning a dramatic finale match 1-0 against Sai Gon last month. Previously known as The Cong, they recorded 18 top-flight triumphs before falling to the lower divisions for several years and returning to the highest level of local football in 2019.
Meanwhile, Binh Dinh will make their return to the V.League after an absence of 12 years t.
They will play Song Lam Nghe An on away ground at Vinh City's Stadium to open the season, but Binh Dinh coach Nguyen Duc Thang has confidence in his side.
"We have prepared for the new fight right after the end of the last season. We have had an intensive training course in the Central Highlands," said Thang, who has been busy in the transfer market.
"Currently, we are seeking three foreign players and three midfielders to make sure we have a good team. Hope I will fill up the holes in the next few weeks.
"As a newbie, we just have a humble target to stay in the league in the first season and being in the final top six would be a dream," he told Vietnam News.
Elsewhere, Hanoi FC will visit Nam Dinh FC; Hong Linh Ha Tinh will host Quang Ninh; Binh Duong will entertain Thanh Hoa while SHB Da Nang will play HCM City. VNS

Thai legend coach Kiatisuk Senamuang is returning to Vietnam to take the position of head coach at Hoang Anh Gia Lai Club in the 2021 season.