Two goals scored by Joao Paulo fired newly promoted Viettel to a long-awaited 2-0 triumph against Hai Phong FC on May 24, thus putting an end to their three-game winless run in Vietnam's top-tier football league.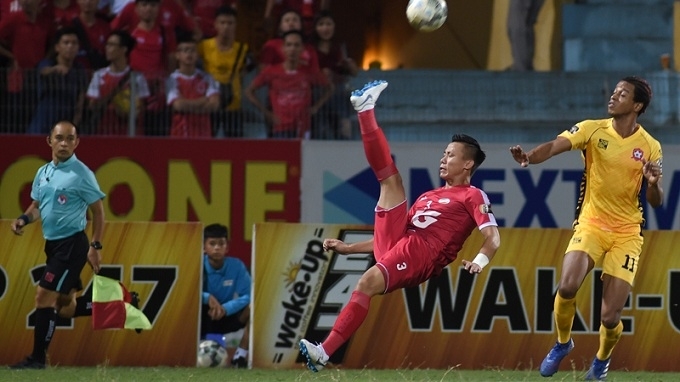 Que Ngoc Hai (in red) and teammates have a brave match against Hai Phong FC.
The home side suddenly went ahead after 13 minutes, as Joao Paulo headed home from Ngoc Son's cross to open the scoring.
Hai Phong threatened to equalise seven minutes later, with forward Diego Fagan stealing the ball from Ngoc Son's inaccurate pass to go one-on-one with keeper The Tai.
Left with no choice, the Viettel goalie broke out of the penalty box and brutally fouled the Jamaican striker, which earned him an immediate red card from referee Hoang Pham Cong Khanh.
As it seemed to be a turning point in favour of Hai Phong, the guests were also forced to play with ten men just within the next six minutes. Hai Phong forward Jermie Lynch was sent off following his shot at Joao Paulo from close range, which was deemed intentional by the referee.
The sudden incident allowed Viettel to reclaim control of the game. The hosts created a number of dangerous attacks on the away goal in the remainder of the first half, but failed to convert any of them.
However, home fans did not have to wait too long to celebrate a second goal, as just 10 minutes after the break, Joao Paulo received a through ball from Kayo Borges and completed his double with a curler towards the far corner.
With time running out, Truong Viet Hoang's troops pushed hard to score, but could not break through Viettel's solid and well-organised defence.
The precious victory put an end to Viettel's three-game winless run and lifted them to ninth position with 13 points, while Hai Phong FC fell to sixth with 15 points.
In other matches, Quang Ninh Coal climbed to third place after beating Becamex Binh Duong with two unanswered away goals. Saigon FC failed to retain third position following a 1-2 defeat at Thanh Hoa.
Nam Dinh FC produced the biggest surprise on Friday by thrashing reigning champions and second-placed Hanoi FC 2-0 on their home pitch. The triumph lifted newly appointed Nguyen Van Dung's side to fourth from bottom with 12 points.
Nhan Dan