The Vietnam Football Federation (VFF) and VFL Wolfsburg FC have signed a Memorandum of Understanding regarding bilateral football co-operation during a ceremony held at the VFF's headquarters on June 18.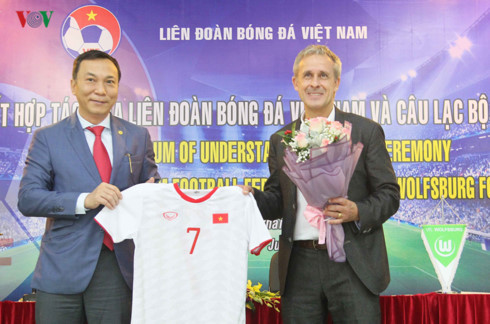 At the signing ceremony
Among those in attendance were Le Khanh Hai, Chairman of the VFF, Frank Jan Steinmann, Director of International Sales for VFL Wolfsburg FC, and Pierre Michael Littbarski, VFL Wolfsburg FC's Ambassador.
Under the deal, both parties have agreed to further enhance bilateral co-operation as well as promoting football development.
The MoU will give priority to comprehensive development co-operation programmes for both men's and women's football.
Club ambassador Pierre Michael Littbarski voiced his hope that through the deal, both sides will be able to enjoy significant achievements in the future.
The overall goal of the agreement is to develop professional football and coaching.

The MoU is to be valid until 2021 and will be renewed based on new requirements that may occur in the future.
VOV