Coach Pham Minh Giang has made up plan to make sure Vietnam's second World Cup participation this year.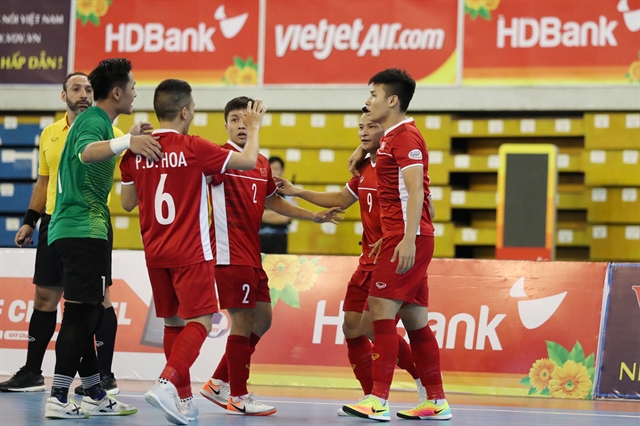 VN futsal national team want to seize their second time competing at the World Cup inLithuania from September 12 to October 2. Photo vietnamnet.vn
The world top 10 coach has selected the country's top players for the campaign after watching the national championship's first period which just ended days ago. 
Giang has opted for both experienced players such as Trần Văn Vũ, Phạm Đức Hòa, Lê Quốc Nam and Nguyễn Minh Trí as well as newbies like Nguyễn Thịnh Phát, Nguyễn Anh Quý, Nguyễn Văn Hiếu, Mai Xuân Hiệp and Nguyễn Trần Duy
They will train in HCM City until May 15 before leaving for the UAE where they will vie for their spot in Lithuania in a two-legged playoff match against Lebanon. 
"I have already built plans for the playoffs and players also warmed up in the national championship. Our camp will help them sharpen their skills, smooth their combinations and deepen their understanding of each other," said Giang.
Coach Nguyễn Hữu Hoàng Phúc of Zetbit Sài Gòn Club suggested Giang focus on the defence first.
"We should take care, especially of the defence. Our focus should be on big and tall players to prevent Lebanon's strong pivots from scoring. A good defence is the basis of a positive result," he said.
The team will have a test match against a mixed squad of Thái Sơn Nam and Sahako on May 14. Giang then will select 18 players to travel with him to Dubai.
They will also have a friendly match with Thailand on May 18 as the final part of their preparations.
The first match against Lebanon was scheduled for May 20 but the two federations have asked and received approval from the Asian Football Confederation to move it to May 23, and the second one is five days later.
The two sides met once in the past. Their encounter at the South Korean Asian Indoor Games in 2013 ended with a 0-0 draw. Việt Nam came second in the group round and Lebanon advanced to the quarter-finals.
In general, Việt Nam have recorded better international results recently but they stand four spots below their rivals who are 40th in the world rankings.
Giang said Lebanon made a big leap in recent year. In the last Asian championship in 2018, they beat five-time World Cup participants Thailand 5-2 in the group stages and it took a penalty shootout for Iraq to knock them out. It was their seventh Asian quarter-final in history.
The Lebanon national team is mainly made of players from the Bank of Beirut club, who have won five of the 12 national championship titles.
The team are run by 57-year-old coach Ramiro Lopez Diaz who signed a contract with the Lebanese Football Association in late April.
The Spanish coach has spent most of his career in Italy. He won the Italian Cup in 2010 and also coached in Kuwait, winning the local league in 2017.
Diaz said his first mission was to guide Lebanon to their first World Cup in 2021 and he would complete it. He said he respected Việt Nam but that Lebanon were favourites.
The other playoff to be held in the UAE is between Thailand and Iraq. 
The winners of the two playoffs will join Japan, Iran and Uzbekistan who earned automatic places in the World Cup final as Asian representatives.
This year's World Cup is to be held in Lithuania from September 12 to October 2.
In the country's first World Cup in 2016, Việt Nam under Spanish coach Bruno Formoso Garcia advanced to the last eight round and won the fair-play award. VNS

The Vietnamese national futsal team are set to hold a friendly match against local rivals Thailand on May 18 in the United Arab Emirates (UAE)