Vietnam defeated the hosts Thailand 2-0 in the first match of Group A of the AFC U19 Women's Championship 2019 at Chonburi Stadium on October 27.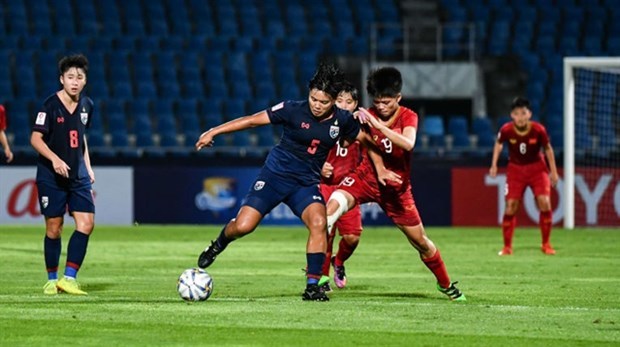 Vietnam vs Thailand in the first match of Group A of the AFC U19 Women's Championship on October 27. (Photo: the-afc.com)
The hosts controlled thegame from the whistle. But it was the visiting side who had the first chance.Ngo Thi Hong Nhung forced Thai goalie Ponpimon Ngoenphon to show herskills in the sixth minute.
After that, Thailandreplied through a Ploychompoo Somnonk attempt from distance that Vietnamesegoalkeeper Nguyen Thị Loan did well to repel.
After the break, Thailandmissed a goal as Chatchawan Rodthong beat goalie Loan but the ball hit thecross bar.
In the 57th minute, Vietnamhad the opening goal thanks to Nguyen Thi Tuyet Ngan's efforts. She pickedherself up to score from the spot after being upended in the area by the hosts'goalie Ponpimon.
In the 92nd minute, NganThi Van Su fixed the win 2-0 for Vietnam.
With this win, Vietnam arein second place of Group A, behind the Democratic People's Republic of Korea(DPRK), who beat Australia 5-1.
Vietnam will next face theDPRK, while Thailand will take on Australia on October 30.
At the 2019 AFC U19 Women's Championship, Vietnam are in Group A together withthe hosts Thailand, DPRK and Australia, while Group B consists of Japan, China,the Republic of Korea and Myanmar.
The three best teams in thetournament will represent Asia to compete in the 2020 FIFA U20 Women's WorldCup./.VNA