The Badminton World Federation has delayed all tournaments scheduled in May to July due to the COVID-19 pandemic.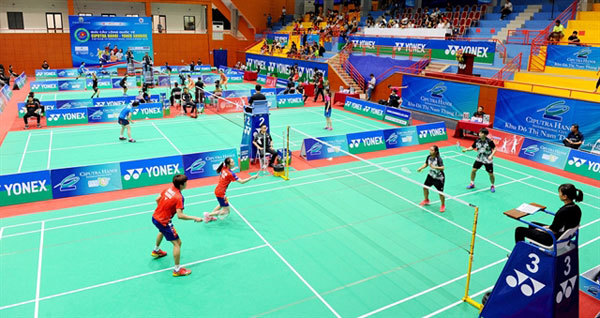 Athletes compete at the 2019 Vietnam International Challenge. This year's tournament has been postponed for the second time. — Photo webthethao.vn
The Vietnam International Challenge from June 2-7 is one of these events. It is the second time the annual tournament has been postponed after being first scheduled for March 24-29 in Hanoi.
A new date has not been confirmed.
Some other competitions affected are the Australian Open (June 2-7), Thailand Open (June 9-14), Indonesia Open (June 16-21), Canada Open (June 30-July 5) and Russian Open (July 7-12).
The BWF is also awaiting permission from host Denmark before deciding to continue carrying out the 2020 Thomas & Uber Cup Finals on August 15-23. Denmark has banned gatherings until the end of August. — VNS
Vu Thi Trang of Vietnam won the Graphics International Challenge badminton tournament on December 22 in Orange County, California, the US.

Nguyen Tien Minh of Vietnam entered the quarter-finals of the Yonex Sunrise Vietnam Open badminton tournament, winning two matches on Thursday in HCM City.