Vietnam have been drawn into the "death group" at the upcoming 30th Southeast Asian (SEA) Games in the Philippines, which features the presence of reigning champions Thailand, Indonesia, Laos, Singapore and Brunei.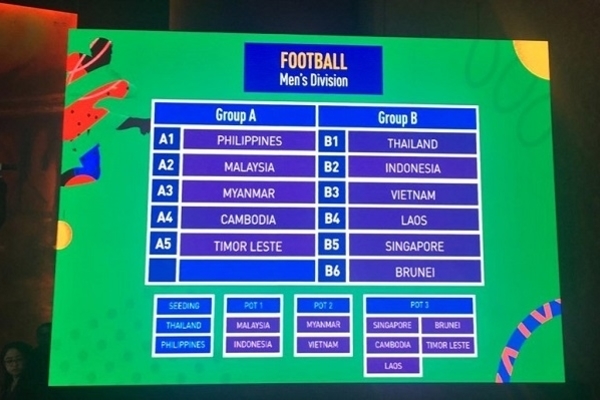 The men's football draw took place at Sofia Hotel in Manila, the Philippines, on October 15, with 11 regional teams divided into two groups.
Group A is made up of Cambodia, defending runners-up Malaysia, Myanmar, the Philippines and Timor Leste.
Placed in the six-team Group B, Vietnam are predicted to face numerous difficulties on their way to conquer the long-awaited SEA Games men's football gold medal, which is also the target assigned by the Vietnam Football Federation (VFF) to Park Hang-seo's side.
Playing up to five group matches, with one every two days, will be a big challenge for the Vietnamese side in terms of fitness. In addition, Park's troops also have to compete against arch rivals Thailand and potential competitors Indonesia and Singapore, in order to book one of the group's two places in the semifinals.
However, attending the draw this morning, VFF General Secretary Le Hoai Anh was optimistic about Vietnam's chance to progress further into the tournament.
"Converging quality teams, Group B will be much more competitive than Group A. But with their current form and power, I believe that Vietnam U22s will storm through the group stage and move towards the overall title".
The 2019 SEA Games men's football competition is scheduled to commence on November 25 and conclude on December 10. The participants will play in a round robin format to determine the top two teams from each group for the semifinals.
With the consecutive successes harvested over the past two years, undoubtedly Park Hang-seo's Vietnamese side will be the odds-on favourites for the gold medal in this year's Games.
The draw results for the 2019 SEA Games women's football event.
The women's football draw results were also announced on the same day, with Vietnam joining Thailand and Indonesia in Group B, while Group A consists of Myanmar, Malaysia and the Philippines. Nhan Dan

Saudi Arabia's Alkhudhayr Turki Mohammed will referee the 2022 World Cup qualifier between Indonesia and Vietnam on Tuesday.

The Futsal HD Bank Championship Southeast Asia 2019 will be held from October 21-27 at Phú Thọ Stadium in HCM City.