Vietnam topped the medal tally of the World Rapid & Blitz Chess Championships which was held in Salobrena, Spain, from September 11-13.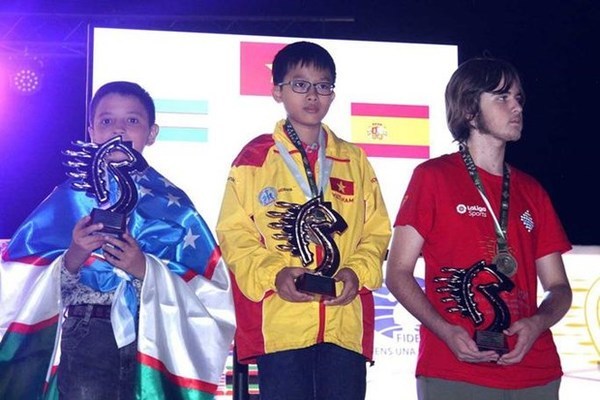 Vo Pham Thien Phuc (C) wins a gold medal in the blitz event of U14 male (Photo: nld.com.vn)
Vietnam secured a total of four golds, five silvers and two bronze medals to take the lead. Spain was runners-up with three golds, while the Netherlands finished third with two golds.
Notably, Nguyen Thien Ngan (Elo 1643) won two golds in the blitz and rapid chess category of U14 female division, while Vo Pham Thien Phuc won a gold medal in the blitz event of U14 male and Bach Ngoc Thuy Duong bagged a gold in the U16 female category of blitz chess event.
The tournament attracted the participation of 183 players from 23 countries and territories across the world, who competed in three age groups of U14, U16 and U18.
Vietnam sent 14 players to compete in both blitz and rapid chess categories of all three age groups at the tournament.