Vietnam national team still lead Southeast Asia in the latest FIFA rankings with a wide distance ahead other regional rivals, despite having fallen two spots.
According to the newly announced FIFA Rankings on September 19, the Vietnamese team dropped two places from 97th to 99th and ranked 16th in Asia.
This is an unexpected result as coach Park Hang-seo's side had a goalless draw against Thailand at the FIFA World Cup 2022 Asian qualifiers early this month, while other rivals had important victories.
In the previous rankings, Thailand were nearly 20 places behind Vietnam. In addition, Park's side only played one match in the month while their rivals in the rankings, such as Jordan and Armenia, won in the 2022 World Cup Qualifiers and the Euro 2020 Qualifiers to surpass Vietnam in the latest rankings.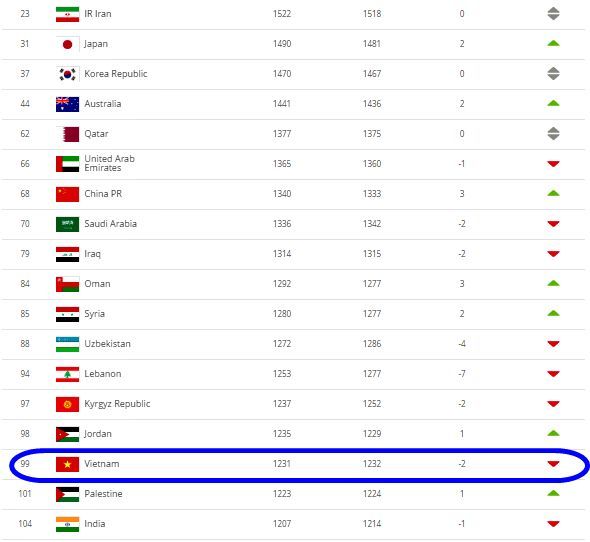 The Vietnamese team dropped two places from 97th to 99th and ranked 16th in Asia.
Despite being demoted and thrown out of the top 15 in Asia, Vietnam still maintain their lead in Southeast Asia with a distance of 15 steps compared to Thailand (ranked 114th).
The Philippines fell to 127th, while Singapore rose five places to 157th.
Malaysia also rose from 159th to 158th in the world. Myanmar dropped 10 places and ranked 145th, while Indonesia dropped seven places to 167th in the world. Cambodia, Laos and Brunei all climbed one notch to 169th, 187th and 191st, respectively. East Timor climbed two places to 199th in the world.
In Asia, Iran maintained the No. 1 with a total of 1,522 points and ranked 23rd in the world, followed by Japan who rose two spots to 31st.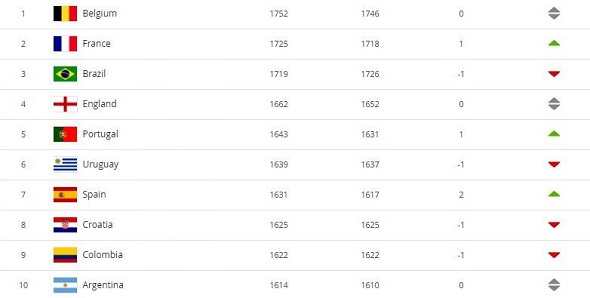 The top 10 teams in the latest FIFA rankings.
In the top 10 of the world, the Belgian team maintained the top position with 1,752 points, while France surpassed Brazil to take No. 2 with 1,725 points.
Brazil dropped to third with 1,719 points. The fourth and fifth places are held by England and Portugal with 1,662 points and 1,643 points, respectively.
The next FIFA rankings will be announced on October 24. If they beat Malaysia and Indonesia in the upcoming matches under in Group G of the World Cup qualifiers, on October 10 and 15, respectively, Vietnam will have a great opportunity to move up in next month's rankings. Nhan Dan/VOV