Ceremonies to commemorate the legendary ancestors of Vietnam, namely Father Lac Long Quan and Mother Au Co, were held at their designated temples on Sim and Van mountains within the Hung Kings Relic Site in Phu Tho on April 10.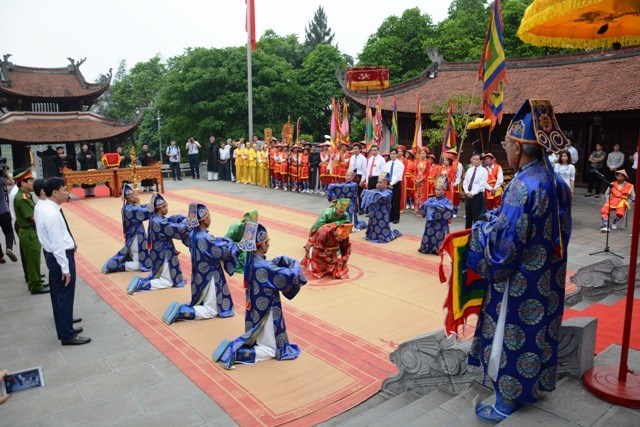 A ritual to commemorate Father Lac Long Quan at his temple on Sim mountain within the Hung Kings Relic Site (Source: nhandan.com.vn)
Local leaders offered incense and flowers to express their gratefulness to Father Lac Long Quan and Mother Au Co for laying the foundations of the Vietnamese nation.
Legend has it that Lac Long Quan (real name Sung Lam, son of Kinh Duong Vuong and Than Long Nu) married Au Co (the fairy daughter of De Lai). Au Co then went on to give birth to a pouch filled with one hundred eggs, which soon hatched into a hundred sons, believed to be Vietnam's ancestors. However, soon thereafter, Lac Long Quan and Au Co separated. Lac Long Quan went to the coast with 50 of the children, while Au Co went to the highlands with the rest.
Their eldest son was made king, who named the country Van Lang and set up the capital in Phong Chau (nowadays Viet Tri city, Phu Tho province), beginning the 18 dynasties of the Hung Kings.
The commemoration of the Hung Kings is sacred to the Vietnamese people, who take the occasion to strengthen national solidarity and the resolve to build a strong and prosperous country.
Previously, on April 9, a similar commemoration of the legendary ancestor Lac Long Quan took place in Noi temple (or Lac Long Quan Temple) in Binh Da hamlet of Binh Minh commune in Thanh Oai district, Hanoi.
The Binh Da festival also kicked off in the same day, featuring ritual and festive activities.
Chairman of the district People's Committee Le Thi Ha said the festival aims to commemorate the legendary ancestor, promote the spirit of patriotism, and uphold the tradition of "When drinking water, remember its sources". –VNA