The Vietnamese women's football team missed their chance to compete in the 2020 Tokyo Olympic Games following their 1-2 loss to Australia in the return leg of the event's play-off on March 11.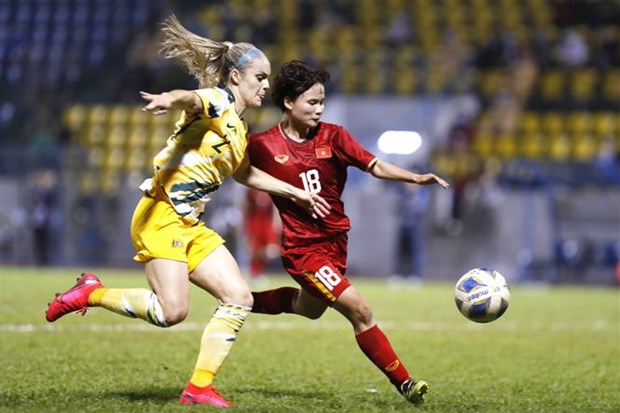 Players of Vietnam (in red) and Australia vie for the ball 
The game was played behind closed doors at Cam Pha Stadium in northern Quang Ninh province due to growing fears of the COVID-19 outbreak.
Earlier, Vietnam lost 0-5 to Australia, the world's No 7 team, in the first leg. With this result, Australia secured a place in the 2020 Olympic Games with 7-1 win on aggregate.
Striker Sam Kerr gave Australia a 1-0 lead in the 15th minute. The visiting side continued to maintain their pressure and doubled their goals in the 27th minute thanks to Hayley Raso.
The dominance still belonged to the Australian team in the second half.
The Vietnamese goal was threatened seriously by counter attacks of Australia. However, goalkeeper Tran Thi Kim Thanh emerged as a bright spot with many situations to defend her goal.
Vietnam resisted patiently and had a goal to narrow the gap to 1-2 in the 55th minute. Captain and striker Huynh Nhu capitalised on a defensive error and lobbed the ball over the Australian goalie.
This was the first time in the history of confrontation at the national team level, Vietnam were able to score past Australia.
In their last six matches, Vietnam had conceded 34 goals and scored none.
Nhu's goal helped the team in red play more confidently in the remaining minutes but Vietnam could not take their chances to score more goals./. VNA

Substitute Nguyen Xuan Nam scored a brace to maintain HCM City FC's top spot in Group F of the Asian Football Confederation Cup in Vientiane, Laos, on March 10.

The Vietnam Football Federation (VFF) said on March 10 that it has decided to make adjustments to the schedule of professional and non-professional football tournaments in 2020 due to the complicated developments of the COVID-19 epidemic.