Vietnam lost 0-2 to defending champions Thailand in the semi-final of the HDBank AFF Futsal Championship at Phu Tho Stadium in Ho Chi Minh City on October 25.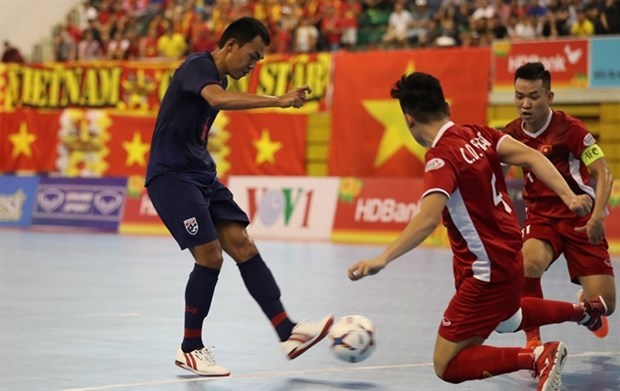 The defending champion –Thailand (blue shirt) defeated Vietnam in the semi-final match. (Photo courtesy of HD Bank)
The hosts entered the match withconfidence thanks to the support of more than 3,000 fans at the stadium.
Coach Miguel Rodrigo of Vietnaminstructed his players to play with an active defence and quickcounter-attacks.
Despite controlling the ballmost of the first half, the guests couldn't find the back of the net, and Vietnamhad more chances to score in the first half than Thailand.
In the 11th minute, Duc Hoa beatthe Thai defence and took a powerful shot which crashed off thecrossbar and went out of play.
The first half ended with nogoals from either side.
Thailand entered the secondperiod on the offensive, looking for the early goal at the beginning ofthe half.
In the 24th minute, Thailandscored the opening goal thanks to a shot from Ronnachai.
Within a minute, Thailand doubledtheir score through Kritsada after he intercepted a wayward Vietnamese pass.
In the remaining minutes, Vietnamthrew themselves forward in search of a goal, but couldn't breach the stoutThai defence. The match ended 2-0 for Thailand.
On October 27, Vietnam will faceMyanmar for third place and a ticket to the Asian Futsal Championship, whileIndonesia will face Thailand in the final after beating Myanmar 4-3./.VNA

Vietnam got a 4-2 victory over Malaysia in the last group stage match of the HDBank AFF Futsal Championship Southeast Asia on Wednesday, at Phu Tho Stadium in HCM City.