Both Vietnam and Malaysia kept their cards close to the chest during training sessions ahead of their 2022 World Cup qualifying game on Thursday.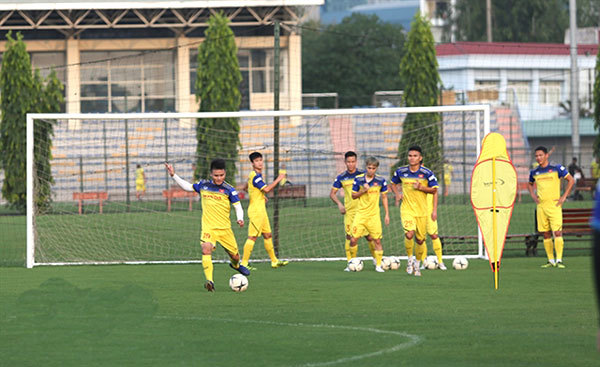 Vietnamese national team train in Hanoi on Monday. Photo tinmoi24.vn
Both Vietnam coach Park Hang-seo and his counterpart Tan Cheng Hoe trained behind closed doors before the game, their first since the 2018 AFF Cup final last December.
Tan refused to speak with Vietnamese journalists but told the press from his home nation they are wary of Vietnam's counter attacking style.
The 51-year-old said no mistakes could be made especially in defence because Vietnamese players can turn defence to attack in the blink of an eye.
He said Malaysia could not beat Vietnam in three recent matches but history goes out of the window ahead of this match.
Tan said his team were ready to play with concentration and confidence against the wall of support behind Vietnam.
In the world ranking, Vietnam are No 99, much higher than No 158 Malaysia. But Tan asked his players to compete with a "can-do" spirit.
Malaysia arrived Hanoi on Monday and among their squad are four naturalised players. One of them is midfielder Brendan Gan who believed that his team would do good job in the coming match.
He said Malaysia were different in both personnel and style. It would be a tough match but as it was a new era, new times for Malaysia.
Meanwhile captain Aidil Radzak said that Malaysia would attack from the beginning and look for an early goal.
Coach Tan has all players fit for the match, meanwhile Park faces with a slight disadvantage with midfielder Luong Xuan Truong ruled out through injury.
The South Korean coach's key defender Doan Van Hau has had just two days to train with the whole team after he missed a fly home from the Netherlands.
"It is a pity that I wasted one day of practicing with the team due to late flight," Hau said.
"But I am always ready to play if Park believes in me. Two days are enough for me to get up to speed and catch up with the whole team."
Hau, 20, has key role in Vietnam's defence who conceded only one goal in their three recent matches.
Midfielder Do Hung Dung is also anxious for the whistle.
"Malaysia just defeated Sri Lanka 6-0 in a friendly. It would be a push for them. But we have home advantage with thousands local supporters," he said.
"I am excited to play the game and want to score a goal."
Iranian referee Moud Bonyadifar will take charge of the match at the My Dinh Stadium.
FIFA-certificated Bonyadifar has never refereed a Vietnam match before.
He is a regular face working at the AFC Champions League, AFC Cup World Cup qualifiers. VNS