Vietnam earned a total of 13,185 points in order to finish 50th on the global beauty rankings compiled by the website Global Beauties.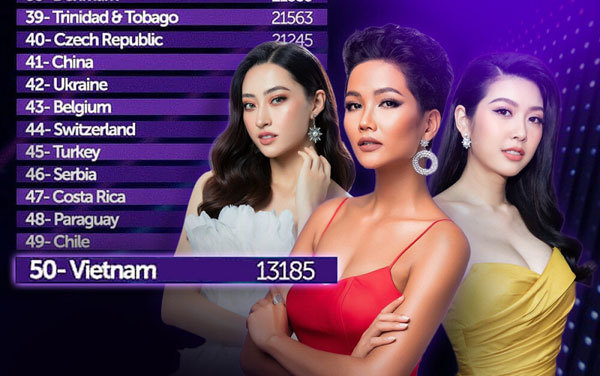 Vietnam finishes 50th on global beauty chart.
Global Beauties, a leading online magazine which focuses on beauty pageants, calculates Vietnam's total points in terms of the achievements of various national representatives across the five major beauty pageants. The renowned competitions include Miss Universe, Miss World, Miss International, Miss Grand International, and Miss Supranational, along with beauty contests for men, such as Mr. World, Mister Supranational, and Manhunt International.
The country's ranking can largely be attributed to the outstanding performances put in by Vietnamese representatives during international beauty pageants.
Notable achievements include H'Hen Nie finishing among the leading five contestants at Miss Universe 2018, Luong Thuy Linh's Top 12 finish at Miss World 2019, Truc Diem's Top 15 finish at Miss International 2011, and Khanh Phuong's Top 25 finish at Miss Supranational 2017.
This is in addition to Hoang Thuy's Top 20 finish at Miss Universe 2019 and Nguyen Thi Huyen's Top 15 finish at Miss World 2004.
The United States tops the global beauty rankings according to Global Beauties with 146,643 points, followed by Venezuela with 138,075 points.
VOV

Vietnamese representative Do Thi Ha has been forecasted to make the top ten of Miss World 2021, according to Missosology Magazine.